XJ-560/XJ-460
Main Specifications
Model Name

XJ-560

XJ-460

3000 ANSI lumens

2500 ANSI lumens

2000:1

Lamp

270W high-pressure mercury lamp

Digital keystone correction

Vertical/horizontal ±30 (Auto)

Focusing

Auto focus

Projection lens

Optical 2X zoom

Projection screen size

15 to 300 inches

Projection range

60" screen: 1.6m to 3.2m; 100" screen: 2.7m to 5.3m Minimum: 0.8m

Projection method

Front/Rear/Ceiling Mount

Projection system

DLP™ system

Display element

0.7" DMD 786,432 pixels (1,024 × 768)


Color reproduction

Full color (16.77 million colors)

RGB input

Display resolution

True display: maximum XGA (1,024 × 768);
compressed: UXGA (1,600 × 1,200)

Input terminals

RGB Mini D-Sub 15 pin × 1 (YCbCr/YPbPr input, shared)

RGB output

Output terminals

-

Video input

Signal system

NTSC/PAL/SECAM/YCbCr/YPbPr

Input terminals

S-Video terminal (separate) × 1; RCA pin terminal (composite) × 1; RGB Mini D-Sub 15-pin (YCbCr/YPbPr) × 1 (RGB input, shared)

Audio

Input

Stereo mini jack × 1

Output

1W monaural

USB input

Remote mouse control

Power requirements

AC100~240V 50/60Hz

Power consumption

340W

280W

Dimensions (W × H × D)

*3

278 × 64 × 214mm (approx.)

Weight

2.7kg (approx.)

Remote control

Wireless remote controller with laser pointer

Security compatibility

Kensington-compatible/Power On Password/Key Lock

Other functions

Direct Power Off, Digital Zoom, Picture in Picture, Custom Logo, Mute, Freeze, Pointer, Color Mode, Low-noise Mode (XJ-560 only)

Supplied accessories

RGB cable/USB cable (XJ-560/XJ-460 only)/video cable/remote controller/dry-cell batteries (for remote controller)/carrying bag/user manual (CD-ROM)/simple user manual/warranty/AC cord

Regulations

Satisfies the following regulations and standards: IEC60950-1; UL-listed (UL60950-1, CSA60950-1); Industry Canada ICES-003 Class B; FCC Part 15 Class B; Low Voltage Directive (EN60950-1, NEMKO-approved); EMC Directive (EN55022 Class B, EN55024, EN61000-3-2, EN61000-3-3); ACA rules (AS/NZS 3548 Class B); PSB-approved; MIC-approved; Electrical Appliance and Material Safety Law (S-JQA-approved); VCCI Class B.
*1 ANSI lumens are units for measuring the luminosity of projected images based on the measurement method defined in IT7.228 of the American National Standards Institute.
*2 In telephoto mode
*3 Excluding protrusions
Options
Product

Model

XJ-560/460

Portable 60-inch screen

YN-6

YES

Portable 80-inch screen

YN-8

YES

Leather carrying case
(Notebook PC carrier type)

YB-1

YES

Component video cable

YK-3

YES

Replacement lamp (for XJ-560/460)

YL-41

YES

Replacement lamp (for XJ-360)

YL-31

-
Projection Distance
| Screen size | WIDE | TELE |
| --- | --- | --- |
| 40-inch | 1.1 m | 2.1 m |
| 60-inch | 1.6 m | 3.2 m |
| 80-inch | 2.2 m | 4.3 m |
| 100-inch | 2.7 m | 5.3 m |
| 150-inch | 4.1 m | 8.0 m |
| 200-inch | 5.5 m | 10.6 m |
| 300-inch | 8.3 m | 16.1 m |
* Projection distances are rough indications for reference during installation.
Dimensions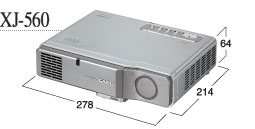 Safety precautions


Please be sure to read the operator? manual carefully before using these products to ensure their safe use.
Warning: Do not use any power source voltage, connection cord or AC adapter other than those specified. To do so could result in fire or electric shock.
Caution: Do not install this product in any place where it could come into contact with water, moisture, steam, dust or oily smoke or in any high-temperature location. This may cause fire, electric shock or machine failure.
•This projector's light source is a high-voltage mercury lamp with extremely high internal pressure. Due to its characteristics, this lamp may explode with a bang or fail to ignite due to shock or overuse. The period of use before an explosion or failure may occur differs greatly, however, depending on the individual lamp and usage conditions. •Be sure to set up this equipment properly according to the instructions in the operator? manual. Failure to make connections properly or attempts to make alterations may result in accidents. CASIO cannot accept responsibility under such circumstances. •Specifications and designs are subject to change without notice. •The color tones of the products shown may differ from the actual products due to printing. •The screen images shown are superimposed graphics.

•CASIO is a registered trademark of CASIO Computer Co., Ltd. in Japan. •CASSIOPEIA is a registered trademark of CASIO Computer Co., Ltd. •DLP, the DLP logo and the DLP medallion are trademarks of Texas Instruments. •XGA is a registered trademark of International Business Machines Corporation in the United States. •Windows is a registered trademark of Microsoft Corporation in the USA and/or other countries. •Other product names or company names in this catalog are either trademarks or registered trademarks of their respective owners.