XJ-560/XJ-460

Vertical/Horizontal Keystone Correction & Auto Focus Ensuring quicker installation
The XJ-560 and XJ-460 are equipped with a vertical/horizontal keystone correction function to correct projector display distortions automatically and an auto focus function to fine-tune the focus for you. These features provide one-touch correction of display distortions resulting from projector installation at angles up to ±30°, vertically or horizontally, and make appropriate focusing adjustments simultaneously. This eliminates installation hassles and ensures that your meetings go smoothly, even in small rooms with limited choices of installation positions
Auto keystone image distortion correction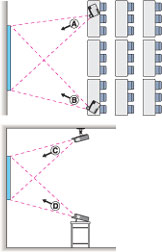 Direct Power Off Providing quicker post-use cool-down
The cooling fan continues to operate for a certain time, even after the power is turned off and the power cord unplugged - freeing you to pack up your materials and take the projector to your next presentation without delay.
* Be sure not to replace the projector in the carrying bag until the main unit has cooled down fully after use.
3000 ANSI Lumens
*

Lamp Ensuring clear projection even in bright conditions!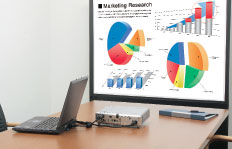 The XJ-560 achieves remarkably high luminosity of 3000 ANSI lumens despite its compact size. This means everyone can see the projected images clearly without dimming the lights, even in brightly lit meeting rooms. The addition of an aspherical Acornic Reflector (ACR) maximises the lamp? capabilities, ensuring projection of even clearer, more luminous images.
* 2500 ANSI lumens with XJ-460
Picture in Picture Permitting layered display of images and movies
Picture in Picture lets you display images and movies from the VIDEO or S-VIDEO input terminal as small screens over a projected background image. And the ability to reposition these small screens or adjust their size in three steps opens up new possibilities for enriched information communication.
Custom Logo Projection
The custom logo projection function enables you to begin presentations by projecting your organisation? logo or mark on the opening screen. This makes a strong impact on your audience and gets your presentations off to an impressive start.
High-luminosity, Compactness & Lightweight Extending your communication range
All these CASSIOPEIA® PRO projectors pack surprisingly advanced functions into remarkably small spaces - realising 3000 ANSI lumens/2500 ANSI lumens illumination in compact bodies or 2200 ANSI lumens in an ultra-compact body.
Effortlessly transportable to any presentation venue, they project clear, vivid images with no need to dim the lights
Wide-angle 2X Zoom Permitting a versatile installation range
Despite its compact body, the projector is equipped with a wide-angle 2X zoom lens, the maximum magnification available in a data projector. * It handles either short-range projection from as close as 0.8m when used with a 30-inch screen or long-range projection from 1.6m to 3.2m with a 60-inch screen. The ability to project images clearly on a large screen, even when installed a short distance from the screen, makes CASSIOPEIA® PRO ideal for use in rooms of all sizes, from small meeting rooms to large classrooms
* As of October 2004 (according to CASIO survey information)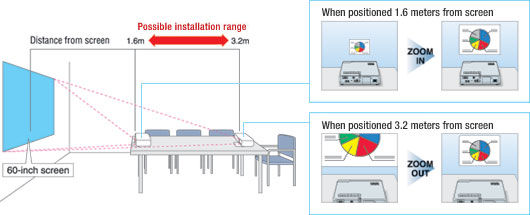 True XGA Compatibility Ensuring clear image projection
CASSIOPEIA® PRO projectors employ a high-definition DMD (digital micromirror device) supporting true XGA (1,024 × 768 dot) to achieve a vivid image reproduction capability. UXGA (1,600 × 1,200) compression display is also available. These specifications ensure that the images you project are always crisp and clear.
* The XJ-360 features SXGA (1,280 × 1,024) compression display.
Real Projection Allowing projection from behind the screen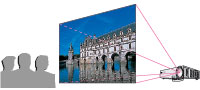 A simple setting change flips images over on the horizontal axis so you can project them accurately from behind the screen
* Separately available screen with rear projection compatibility required.
Ceiling Mount Supporting fixed-position projection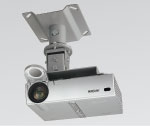 This function enables users who want to employ their CASSIOPEIA® PRO projector in a fixed position in a meeting room, classroom or exhibition room to hang it from the ceiling. The projector reverses the images vertically and projects them correctly, even when hung upside down from the ceiling
* Requires separately sold hanger for installation. Inquire with your CASIO dealer for details.
Antitheft Lock Compatibility Ensuring enhanced security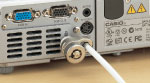 An anti-theft lock hole is provided to help prevent theft before it happens.
* Use of a commercially available wire anti-theft lock possible.
Connection interface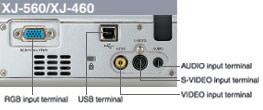 Color Modes Adjusting images to suit varied conditions
Five built-in color modes enable you to select the optimal luminosity depending on the image or content. This ability to adjust the color mode setting to the situation enables you to present the images you want to project more effectively.
Presentation
A setting suited to making general presentations in bright venues
Standard
A setting for making effective use of color in presentations
Graphics
A setting suited to presenting photos, etc., naturally
Theatre
A setting for showing dark areas in movies clearly
Blackboard
A setting offering easy-view blackboard projection
DLP&trade System Supporting natural color reproduction

The DLP&trade system is an image display system employing the digital micromirror device (DMD) chip developed by Texas Instruments of the U.S. through the application of its original Digital Light Processing&trade technology. Use of this advanced technology makes it possible to reproduce the actual colors in image data and achieves vivid, high-definition projection, even on a large screen. The system's superior reproduction capabilities also enable CASSIOPEIA® PRO projectors to maintain more stable image quality than projectors employing LCD systems, without color blurring or deterioration due to the passage of time.
1st stage

After 2,688 hours

DLP™
system

LCD
system