PX-A800BN

Product appearance : To reproduce a convincing natural wood texture, the product has been intentionally designed to give the appearance of sawed wood construction.The surface pattern includes fabricated tree knots and saw-blade gashes that look like, but aren't, cracks or scratches. What's more, the pattern is laid out differently on every piano.
Étude Op.10-5 "Black Keys"
Sound Technology
Unprecedented Natural Reproduction of the Rich Expressive Power and Resonance of an Acoustic Piano
Multi-dimensional Morphing AiR Sound Source
The characteristics of CASIO's newly developed Multi-dimensional Morphing AiR* Sound Source reflect thorough attention to detail in expressing the rich, resonating tones inherent to the piano. The capacity of the installed memory has been expanded to achieve a longer sampling duration and enhanced waveform data quality. The temporal changes in tone that create sound you would expect only from a piano, beginning with the initial sound and leading into a beautiful extension until the sound eventually vanishes, are reproduced naturally. Learn more
*

AiR = Acoustic and Intelligent Resonator
10 built-in grand piano tones optimized for various music genres
Built-in tones include optimal piano tones for 10 different music genres, from classical music to rock, jazz and dance music.
Grand piano tones : 1) CONCERT, 2) ROCK, 3) JAZZ, 4) CLASSIC, 5) POP, 6) DANCE, 7) LA, 8) MELLOW, 9) BRIGHT, 10) PIANO PAD
Keyboard System
Natural Playing Feel Approaching That of a Grand Piano Firm Touch That Converts the Player's Thoughts into Sound
Tri-sensor Scaled Hammer Action Keyboard II, with a grand piano's unique sounding timing
The difference between the sound structures of a grand piano and a digital piano appears as a difference in timing, from the moment the instrument is played until the sound is audible. The new Tri-sensor Scaled Hammer Action Keyboard II responds by incorporating a system with three sensors that detect touches of the keys sequentially. Learn more
Simulated ebony and ivory keys with optimal fingertip fit for playing ease
The Simulated ebony and ivory keys offers the luxurious feel and texture as well as the smooth touch of a grand piano keyboard. The minutely detailed crimp surface finish inhibits finger slippage due to sweat and gives the sensation of a perfect fingertip fit, even when playing for extended periods.
Lid Simulator* reproducing the sound effects resulting from an open lid
The sound volume and quality change when the lid on a grand piano is raised or lowered. The Lid Simulator reproduces the same acoustic effects for enhanced enjoyment with a digital piano. The acoustic effects of opening and closing the lid are simulated in fine detail. The piano sound you are seeking as you play is always available for your enjoyment by selecting the degree to which the lid is raised or lowered.

*

The Lid Simulator setting value remains unchanged, regardless of whether the lid on the piano body is open or closed.
An unprecedented evolution of the digital piano
Reproducing the richly varied reverberations characteristic of 10 acclaimed concert venues — Hall Simulator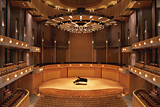 This function simulates acoustic characteristics ranging from clear, clean sound to free, luxuriant sound produced in world-famous concert halls and other venues. Privia's advanced equalizing system offers the full pleasure of piano sound in a vibrant concert environment.
Hall Simulator setting
1) N.Y. CLUB, 2) SCORING STAGE, 3) DUTCH CHURCH, 4) STANDARD HALL (DEFAULT), 5) OPERA HALL, 6) VIENNESE HALL, 7) L.A. HALL, 8) BERLIN HALL, 9) FRENCH CATHEDRAL, 10) BRITISH STADIUM
String Resonance* resonator achieving deep, rich resonance with 88 keys
The sound produced by an acoustic piano is not only the sound associated with the keys that are struck. Other strings with frequencies closely associated with those producing the sounds resonate as well, adding their sound to give the music a uniquely rich resonance. In ordinary digital pianos, this string resonance effect is reproduced virtually with strings. The Multi-dimensional Morphing AiR sound source takes a different approach, however, by adopting a "string resonance" system incorporating a stereo resonance simulator for all 88 keys. The resonance of the 88 keys is reproduced completely and naturally. The resonance realized by playing a single tone is differentiated from that realized by playing a chord to reproduce the resulting variations in resonance in a natural manner. This even enables players to achieve varying resonances, controlling them at will by the strength of their touch, and thus to realize performances with the unique expressiveness of an acoustic piano.
Key Off Simulator reproducing tonal variations resulting from finger release
The lengths of the reverberations and expressions a piano produces vary depending on the speed at which players release their fingers after touching the keys. The new keyboard system incorporates a Key Off Simulator that reproduces these nuances resulting from key release naturally. Authentic reverberations that feel just like those of a grand piano are expressed as a result.

Damper Resonance *1 achieving a more naturally beautiful resonance than a pedal
The deep, beautiful resonance resulting from the use of a damper pedal is also reproduced naturally by a stereo resonance simulator installed on all 88 keys, an approach that differs from conventional simulated reproduction employing effect processing. The attention to detail goes so far as to simulate the resonance created by the lifting of the dampers themselves when the pedal is pressed. A continuously variable system has been adopted for the damper pedal, moreover, reproducing even the subtle changes in reverberation that occur in response to the delicate pressure exerted by partial pedal operation. This enables players to employ pedal operation to achieve gracefully expressive performances.
Versatile features
Audio Recording (44.1 kHz WAV Format / up to approximately 25 min. per song)
18 high-quality tones including stereo-sampled grand piano tones
Digital effects: chorus (4 types), brilliance, DSP (preset for some tones)
Three GRAND PIANO buttons (CONCERT, ROCK, JAZZ) for instant access
Recorder: 2 tracks x 1 song, approximately 5,000 notes
USB flash drive port
Line OUT jacks(L/MONO, R)
AUTO POWER OFF