MEP-T10

*This product is not available in some countries due to regional restrictions.
Convenient Labemo Features
Labemo Promotion Video
Dedicated tape that is functional and easy to use!
Attach and Peel Off
No adhesive residue! Easy to reattach!

No Backing Sheet
Attach immediately! No wastepaper!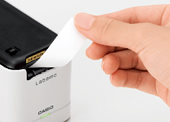 PC-Connectable for Quick, Convenient Label Printing!
Connect to a PC via a USB connection. Print labels by inputting text using a keyboard or copying and pasting from a Web site or e-mail.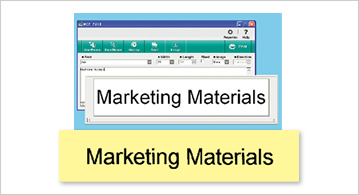 Input from a PC
Input using a keyboard. Or, use copy and paste to transfer text.
Attractive Text
Create labels using fonts installed on your PC!
Multiple Languages
Create labels in the languages you use in your PC environment!

Simple Touch Panel Operation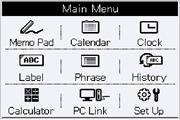 Support for everything from label and memo production to schedule management.
Printing of Handwritten Text or Illustrations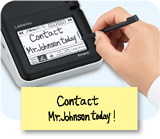 Print handwritten text or illustrations.
Input Using a Software Keyboard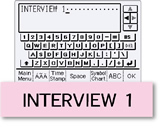 Print labels in attractive text input by touching the keys on a software keyboard displayed on the screen.
Other Functions
[Calendar Function] Easy-to-read monthly calendar.
[Clock Function] Display the current time in large numbers.
[Calculator Function] Print the calculation results.
[Backlight] LCD with a bright backlight for easy viewing.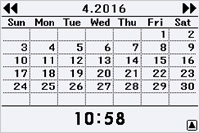 Carendar Screen
Specifications
Model

MEP-T10

Connection

Personal computer

Yes

LCD

LCD size

3.6-inch 240 x 160 dots

Backlight

Yes

Printing

Print resolution (dpi)

*1

200

Maximum printing height (mm)

*2

Approx. 12

3

Built-in Data

Fonts

Sans-serif, Simsun (Chinese)

*3

Installed character types

Kanji

Pinyin conversion

Functions

Input method

Alphabet, Pinyin (Chinese)

*3

Handwriting

Yes

No. of recorded handwritten memos

99

Time stamp

Yes

Clock / Alarm

Yes

Calendar

Yes

Calculator

Yes

Common phrases

Yes

Auto power off

Yes

Power supply

AC adaptor (AD-A12200L) / 4 x AA-size alkaline batteries

Accessories

AC adaptor (AD-A12200L) / Sample tape x 1 / Windows® PC software CD-ROM x 1 / Two touch pens / Dedicated USB cable / Instruction manual / Warranty

Dimensions: W×D×H

*4

(mm)

119×146×67

Approximate weight (g)
*1
Dpi (dots per inch): number of dots per inch (approx. 25.4mm)
*2
Use of 18mm tape
*3
When linked to a PC, depends on the PC environment.
*4
With rubber feet.
*5
Without batteries. With touch pens.