QF-R10

Simple operation designed for maximize ease of use

Easily operated multi-page touch keys ensure simple, and quick menu item input. Even first-time users can operate the system with confidence, and improves work efficiency naturally and rapidly.
Industry First
*

Use of a Booklet-Type Handheld Terminal
* First ever for a restaurant industry order system (as of June 2010; source: CASIO internal data)
Simple One-Key-One-Item Operation
The system realizes simple one-key-one-item operation using pages that correspond to table menus. It is possible to set 192 menu items using ordinary operation and up to 384 items using shift operation. The superb operability and ease of use offered by booklet-type handheld terminals promotes work efficiency and contributes to service improvements and restaurant reputation.
Menu Setting Example

Highly Legible LCD Screen
The easily readable LCD screen supports comfortable operation, including confirmation of input items, use of the operation guide, and simple menu change.
Use of Large Buttons for Popular Menu Items
For instance, combine four keys for configuration as a single button. For added convenience, prepare large buttons for popular menu items. Use of photos is also possible.
Antimicrobial Treatment Contributes to Sanitation
The handheld terminal case is treated using an antibacterial agent evaluated using the ISO 22196 method. The antimicrobial treatment contributes to sanitary use.
* Quality control and information disclosure are conducted using Society of Industrial Technology for Antimicrobial Articles guidelines in accordance with results evaluated using the ISO 22196 method.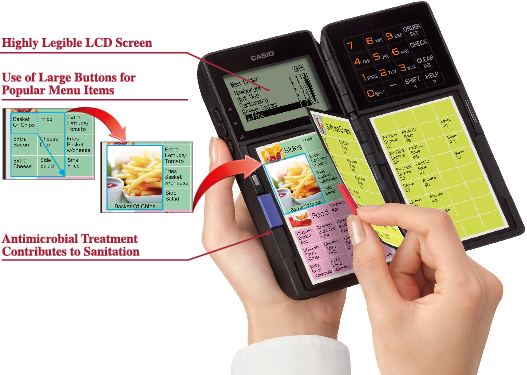 New Workers Quickly Contribute to the Business
Easy-to-use multi-page touch keys make it possible to learn operation more rapidly. This reduces the burden of worker training.
Simple Switching Between Daytime and Evening Menus
Switching between a lunch menu and dinner menu is as simple as replacing pages. A convenient replacement booklet (QF-12BM) is available as an option.
Conveniently Powered by AAA alkaline Batteries or Rechargeable Batteries
The handheld terminal can be powered using ordinary AAA alkaline batteries or rechargeable batteries. There is no need to recharge the terminal itself.
Grow the Business with Improved Service
The use of a booklet-type handheld terminal enables staff to focus on customer service with no distraction from device operation. This contributes to improved hospitality.
Taking of Additional Orders Using the Reminder Function
When a preset time period has elapsed since order transmission, the server is reminded using a buzzer or vibrator.
This facilitates confirmation of the situation at the customer's table or the taking of additional orders.
Meticulous Attention to Worry-Free Operation
Worry-Free Shock-Resistant, Splash Proof Design
The handheld terminal features dust-proofing and splash proofing that meet the IP54 international standard and a shock-resistant structure that can withstand dropping from a height of 1.6 metres.
430 MHz Band Wireless Transmission to Resist Interference from Electronic Devices
To ensure worry-free operation, order data is transmitted using the 430 MHz band, which is subject to little interference from microwave ovens or other electronic devices.
System Configuration Example
Printed slip examples
Used at various types of restaurants
CASIO Order Entry System is only available in the following countries and areas.
Taiwan, Thailand, Indonesia, Philippines, Malaysia, Singapore, Vietnam, Hong Kong
Australia, New Zealand
United Arab Emirates, Saudi Arabia
China(Exclude CASIO cash registers)