SE-300/2000

Stroke keyboard Models
Designed to meet the needs of almost any retailer in the grocery or general merchandising fields, our stroke keyboards are equipped with 25 department keys (1-sheet models) or 30 department keys (2-sheet model) for quick, accurate department registration. Using the shift key doubles these numbers to 50 and 60, respectively. And up to 200 departments can be registered by department number.
A post receipt function key lets operators issue receipts even with the receipt function key turned to OFF.
Combination keyboard Models
An optimal combination of 72 keys on the spill-proof flat keyboard and regular stroke keys support easy registration for retailers of all kinds, especially for small restaurants and other food industry businesses.
Easily replaceable menu sheet paper simplifies the new menu creation process.
The dark coloring and rounded contours ensure a good fit with most hospitality environments.
A stand-alone check-tracking function supports efficient control by hospitality businesses.
Highlighted Features
Compact size
The size has been reduced by 33% * to open up more counter space for interaction with customers.
* Main unit only; comparison with TE-2000 model
Stylish design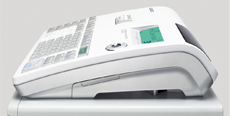 The contoured body with two-tone coloring adds further richness and elegance to your store's image.
The keyboard is operator friendly, and the display is set at the optimal angle for easy viewing.
The key touch tones can also be turned off when a quiet store atmosphere is desirable.
High visibility sales transaction display

A clear backlit LCD assures easy operator readability.Transactions are displayed in up to 12 characters and individual sales figures in up to 10 digits in 7 segments.
Receipt and Journal printer
The speedy thermal printer meets the needs of busy stores with clear, concise printing on spacious sheets measuring 58mm in width. Enhance your store image by selecting the optimal printing size for adding store messages and graphic images. You can print in normal or double-size characters and add a graphic logo and/or commercial message as a header.
Help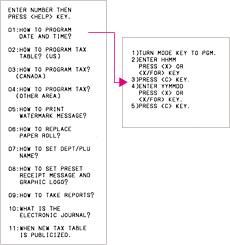 The Help function provides answers to frequently asked questions, from date/time programming and other receipt issuance issues to paper roll installation and operation of the 300 PLU/department name feature.
Graphic logo printing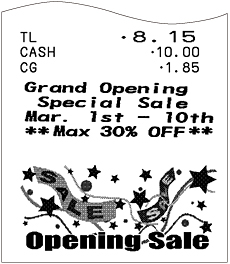 Print graphic images and free text on your receipts for promotional or other purposes. Select an attractive text font to add style to your promotions. A selection of ready-made built-in images is also available for immediate use.
Quick, easy drop-in paper loading
The drop-in paper loading method is adopted to simplify paper roll replacement.
300 built-in PLU's / department names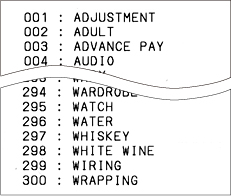 Built-in menus reduce the programming time required for PLU's and departments. Simply select a name from the list and make any necessary adjustments.
Easy character setting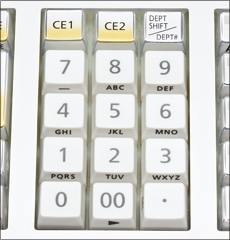 Use the 10-key keypad and function keys to program such programmable items as PLU and department names. The display enables you to confirm input data at a glance.
Customer display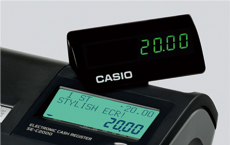 A built-in customer display makes it easy for customers to confirm sales transaction contents.
Data backup
An automatic backup and restore function stores your programming data securely in internal flash memory.
Selection of Models
Sales Reports
Other convenient features
200 department registrations in up to 12 characters
2,000 PLU's for quick, accurate registration
50 clerks
4 tax tables for tax-included or add-on tax calculations
PC connection
Electronic Journal
The Electronic Journal function enables you to save the contents of your sales transactions in built-in memory.