XJ-M155

Conduct a varied range of visual communications, from meetings and conferences to presentations, with one of these models.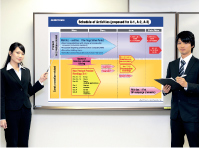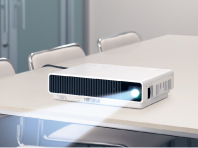 4 Key Qualities Realized by CASIO's Laser & LED Hybrid Light Source
Laser & LED Hybrid Light Source supporting high-brightness projection without mercury
ECOLOGY

CASIO has applied its unique new Laser & LED Hybrid Light Source to achieve breakthrough development of a mercury-free high-brightness projector. Adopting a new semiconductor-based light source system combining a blue laser, phosphor and a red LED, we have achieved both high-brightness performance enabling projection in well-lit rooms and environmental friendliness with mercury eliminated from the light source.
Revolutionary new light source technology
CASIO developed a new semiconductor light source technology combining a red LED, phosphor and a blue laser. This source achieves high luminance safely by employing a phosphor device to modify the wavelengths and phases of blue laser light.
Approximately 20,000-hour long-life light source with less brightness degradation
ECONOMY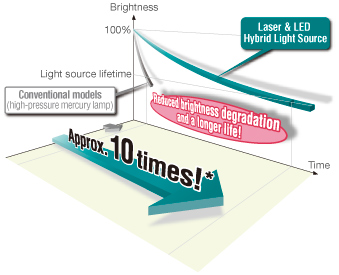 * Compared with conventional CASIO models,
as of February 2011. Source: CASIO
The light source's life of approximately 20,000 hours far outshines that of conventional projectors that require mercury lamp replacement. It saves maintenance labor and contributes to a significant reduction in operating costs. Since brightness degradation is more gradual than with mercury lamps, moreover, it maintains vivid image quality through long-term use.
Startup as quick as 5-seconds * Fast ON & OFF switching for convenient usability
USABILITY
Projection at maximum brightness is achieved in as few as five seconds, and the time from startup to screen display is shortened dramatically, facilitating more effective use of limited time. No cooling down is necessary, moreover, when the power is turned OFF. Users can complete the process from setting up to packing up smartly and speedily.

Enhanced beauty and realism A further leap forward in
color reproduction
VISIBILITY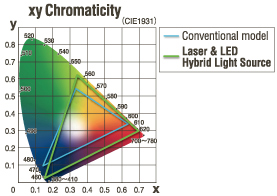 The dramatic improvement in color purity achieved by the new light source has significantly improved color reproduction. Not only are the colors clearer and more beautiful, but the projected images also look brighter due to the visual effects of the high-purity colors. Users benefit from clearer, more powerful images than conventional projectors can achieve.
Concern for today's high environmental quality standards
CASIO has developed a light source with no mercury lamp to eliminate the release of mercury, a highly toxic element, and adopted energy- and resource-saving designs. Superior environmental performance is also achieved by innovations such as Intelligent Brightness Control, which adjusts the projection brightness automatically depending on the level of illumination in the surrounding environment and contributes to daily power savings.
Compatibility with 3D contents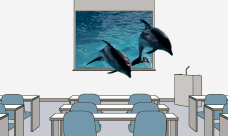 A DLP ® 3D projection function * enables stereoscopic image display that is impossible with 2D projection. This can enhance viewers' understanding of presentation contents. A built-in 5W speaker further expands the possibilities for presentations.
Support for wireless LAN and PC-free presentations
A wireless LAN function (IEEE802.11b/g) with MobiShow ® * compatibility is installed for versatility. Wireless connection with smart phones and other mobile devices as well as with Windows ® PCs is also possible. The inclusion of a USB 2.0 host function * enables users to project presentation materials saved in USB memory with no PC connection.
* See Functions . Supported models: XJ-M255/M245/M155/M145
Abundant interfaces as standard equipment
CASIO's next-generation projectors are equipped with AV terminals, such as HDMI and S-Video suitable for high-quality projection, as well as PC input terminals. Audio output and PC control terminals add further to their ability to respond to a wide variety of user requirements.

* XJ-M255/M245/M155/M145 models only
Linkage to CASIO Digital Equipment