XJ-ST145

Advanced communications tools impacting the front lines of the education and business fields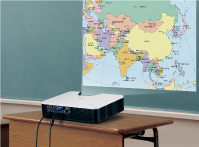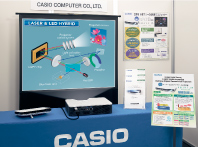 4 Key Qualities Realized by CASIO's Laser & LED Hybrid Light Source
Mercury-free high brightness up to 3500 ANSI lumens
ECOLOGY
Adopting a new semiconductor light source system combining a laser and an LED has achieved both higher brightness than conventional LED projectors can offer and superior eco-friendliness as compared with mercury lamp models. CASIO's Hybrid Light Source enables mercury-free projection with excellent brightness characteristics.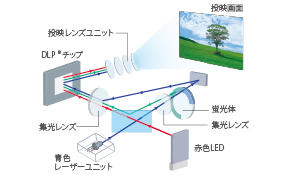 Hybrid Light Source achieves a high level of brightness without the use of high-pressure mercury lamps by employing a laser and an LED: red by adopting a high-brightness red LED; green by using phosphor to convert blue laser light; and blue by adopting a high-brightness blue LED * .
* Blue generated by a blue laser unit available in XJ-A series and XJ-M series.
Approximately 20,000-hour long-life light source with less brightness degradation
ECONOMY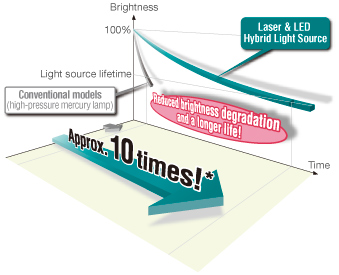 * Compared with conventional CASIO models,
as of February 2011. Source: CASIO
The light source's life of approximately 20,000 hours far outshines that of conventional projectors that require mercury lamp replacement. It saves maintenance labor and contributes to a significant reduction in operating costs. Since brightness degradation is more gradual than with mercury lamps, moreover, it maintains vivid image quality through long-term use.
Startup as quick as 5-seconds * Fast ON & OFF switching for convenient usability
USABILITY
Projection at maximum brightness is achieved in as few as five seconds, and the time from startup to screen display is shortened dramatically, facilitating more effective use of limited time. No cooling down is necessary, moreover, when the power is turned OFF. Users can complete the process from setting up to packing up smartly and speedily.

Enhanced beauty and realism A further leap forward in
color reproduction
VISIBILITY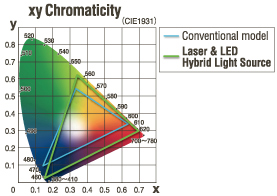 The dramatic improvement in color purity achieved by the new light source has significantly improved color reproduction. Not only are the colors clearer and more beautiful, but the projected images also look brighter due to the visual effects of the high-purity colors. Users benefit from clearer, more powerful images than conventional projectors can achieve.
Short-distance projection appropriate for classroom use
These models are equipped with a short-throw lens for projection of 60-inch images at a distance of 80cm. The shorter projection distance provided by this close-up projection reduces shadows on the screen and eliminates the possible distraction of projector light shining in viewers' eyes, optimizing user and viewer comfort. And the varied range of projection method possibilities includes ceiling-mounted projection as an optimal solution.

Making classes easier to understand and enhancing student understanding
The projection screen can be turned into an electronic blackboard by mouse operation and writing on the projection screen with the optional interactive pointer (YA-P10) * . The ability to project 3D contents contributes further to students' understanding of the contents. Separately available CASIO 3D Converter (YA-D30) * software can also be used to convert 2D images to 3D images, further expanding the range of available instruction styles.
Efficient setup and cleanup
Projection at the maximum brightness is possible in as few as five seconds after the power is turned on, and no cooling down period is necessary when the power is turned off. The short-throw models also offer such functions as manual focus that enables intuitive dial operation and automatic vertical keystone correction that corrects distortions of screen images in the upper 30° range, thus optimizing the projector positioning possibilities.

Ideal for business uses as well
The short-throw lens also suits these models to application in small spaces, such as exhibition booths or meeting rooms. Since they are also equipped with a MobiShow ® * compatible wireless LAN function and USB 2.0 host function, they perform beautifully in business circumstances ranging from meetings involving multiple PCs to PC-less presentations using smart phones and USB memory.
Full range of interfaces
The wide selection of input and output interfaces includes HDMI terminals that support connectivity with PCs, DVDs and Blu-ray devices with an HDMI cable as well as terminals for PC input and output, AV device connection, USB device connection and control. A built-in 10W monaural speaker adds a powerful audio capability to support projection without the use of external speakers. These capabilities combine to meet wide-ranging needs in fields from education to business.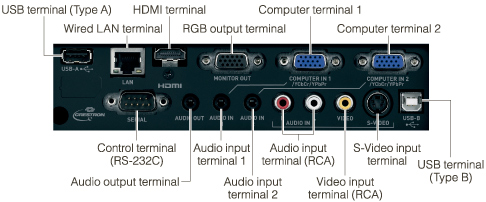 Linkage to CASIO Digital Equipment