YC-430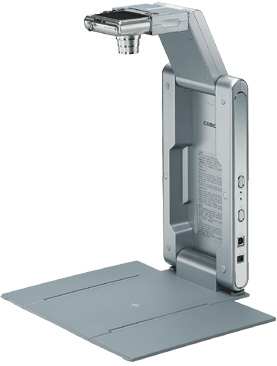 When you integrate the YC-430 into your presentation system, you're getting more than a camera. You're benefiting from the power of the integrated scanning system to turn documents into jpegs, and the ability to shoot crisp photos and drag them into PowerPoint.
Casio's multifunctional camera system – the YC-430 – allows easy projection of actual objects such as documents or product samples. Plus the 10 Mega Pixel CCD camera detaches for standalone use.
10 Mega Pixel Removable Digital Camera
Fits in your briefcase. Approximately 168 × 44 × 296mm folded
Scans Documents
Show and Photograph 3-D Objects
Document Presenter
Direct connection to Projector through USB
About 1.7kg
Use it as a scanner

to capture newspaper and magazine articles as well as to copy from books and other printed material. Your document will square up automatically.
Portable
When opened the copy stand is about 327mm wide × 404mm high × 264mm deep and when folded it is about 168mm wide, 44mm high and 296mm deep. Weight is about 1.7kg.
10 Mega Pixel Digital Camera

Easily slide the camera from the copy stand and you have a stand alone 10 Mega Pixel Digital Camera with 3X optical zoom.
Use it like an overhead projector.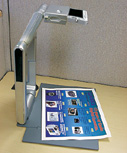 Place your document on the stage and watch as the firmware squares it up for you automatically, so you can concentrate on giving your presentation and not adjusting the document.