XJ-S46/XJ-S41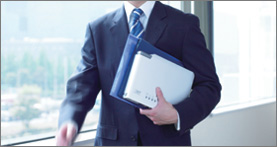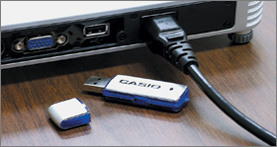 Road Warrior Designed!
The Casio Super Slim is a small but powerful projector – about the size of an B5 sheet of paper, and it fits into a briefcase together with your laptop.
2X Optical Zoom!
Use Super Slim's powerful zoom lens to properly fill your screen. Whether you're in a small office or large board room, the industry leading 2X zoom gives you the flexibility to easily position the projector.
New Color Wheel Technology!
Casio has improved the image system so that your presentations look brighter with improved color and enhanced contrast.
USB Technology!
PC Free Presentations! (XJ-S46)
No laptop required – Transfer your material to a USB thumb drive by using Casio's EZ-PRO Converter.
Wireless Presentations! (XJ-S46)
By using the optional YW-2L Wireless LAN adaptor, up to four laptops can be connected wirelessly to the XJ-S46.
Casio Multi-Functional Camera System YC-430! (XJ-S46)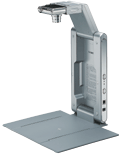 Casio's multifunctional camera system – the YC-430 – allows easy projection of actual objects such as documents or product samples. The 10 Mega Pixel CCD camera is easy to remove from the stand.