IT-9000 Series

Functionality, reliability and usability in a single terminal.
The IT-9000 handheld printer terminal
The IT-9000 delivers multi-functionality to perform a variety of work operations in a single device.
A rugged body suitable for even demanding outdoor use, equipped with a high-speed thermal printer, 3G wireless WAN, and C-MOS imager for barcode reading.
In addition, the IT-9000 has enhanced the security features to prevent information leaks.
The IT-9000 provides total support to increase the efficiency of on-site business operations such as meter reading and traffic violation control.
ALL IN ONE
Integrated design that combines high operability and multi-functionality
High-Speed Thermal Printer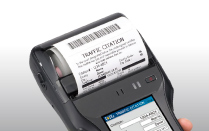 The IT-9000 has a built-in high-speed thermal printer that provides to print up to 28 lines per second * to dramatically boost work speed and efficiency. In addition, text size and fonts can be changed to suit the printer content.
* In the case of1-ply roll paper, new batteries (fully charged), and room temperature operation
Wireless WAN GPS for Outdoor Use
*
The IT-9000 realises real-time communication with a built-in 3G wireless WAN module * for high-speed data transmission (HSDPA) and voice communication. In addition, GPS capabilities make it possible to acquire positional information. The IT-9000 is a highly flexible handheld printer terminal that supports wide-ranging applications in field operations. For instance, operators can record the completion of meter reading together with positioning information.
* IT-9000-GMC25E-C/GC25E-C/G25E-C/G05E-C
[Wake on SMS]

The communication module remains in standby mode even when switched off, and the terminal "wakes up" on SMS arrival to receive data. This makes it possible to receive urgent messages at any time.

[Automatic WAN/LAN Switching]

The device can automatically switch communication methods between a wireless WAN for outdoor use and a wireless LAN for indoor use.
Built-In Magnetic Card Reader
*
The IT-9000-GMC25E-C is equipped with modules for reading magnetic cards for membership cards, credit cards and other cards. The card reader improves efficiency in outside work by enabling workers to send server inquiries from the spot to obtain member information, employee ID information, and other data.
Some models are equipped with a C-MOS imager that can read 2D code symbologies. The imager also supports reading of GS1 DataBar, the newest barcode standard (barcodes and stacked codes).
* IT-9000-GMC25E-C/GC25E-C/G25E-C/25E-C
Built-In NFC Reader/Writer with SAM Slots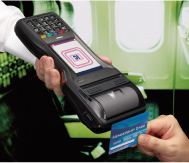 The IT-9000 is equipped with a reader/writer that supports NFCIP2, the latest short-distance wireless communication standard, and supports recognition of contactless smart cards such as FeliCa ® and MIFARE ® and ISO15693-compliant RFID tags(13.56MHz). A built-in antenna at the top of the device enables seamless interaction with the target smart card. SAM (Secure Access Module) slots come as a standard feature for applications requiring a high level of security, such as prevention of unauthorised smart card use.
Employee ID and
other cards
[Contactless Cards]

[Use of RFID Tags]

Member management, loyalty point management, and attendance management using membership cards, employee IDs, and other cards.

The IT-9000 offers enhanced security for outside work operators by performing user authentication on log-in.

During meter reading the IT-9000 helps increase input efficiency and prevent errors by reading customer information from tags.

Reading of registered vehicle information from tags makes possible use for applications such as managing traffic violations.
A Variety of Expansion Features
USB connector
The terminal is equipped with a USB connector that supports USB host/client. This expands the range of use of handheld terminals by enabling connection with external devices or cradleless connection with a PC.
SD card slot
The terminal comes with an SD card slot (SDHC-compatible) as a standard feature for use in applications such as operation with a high-capacity stored database for backup data or expansion of user memory.
Bluetooth ® 2.0 integrated as a standard feature
Bluetooth ® Ver.2.0 (Class2) is integrated as a standard feature. This makes possible voice communication using wireless headsets.
OUTDOOR
Rugged specifications that support on-site operations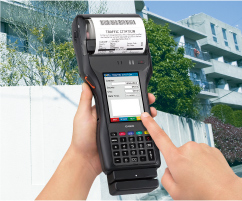 High-Resolution VGA LCD with Excellent Visibility for Outdoor User
The IT-9000 is equipped with a Blanview ® LCD, a 3.7-inch colour transmissive TFT LCD with an easy-to-operate touch panel.
The display provides excellent visibility indoors and in direct sunlight, and VGA-compatible high resolution (640×480pixels) supports high-definition image display content. In addition, power consumption of the backlight is only about one-third that of semi-transmissive LCDs.
Keyboard Designed and Built for Comfortable Operation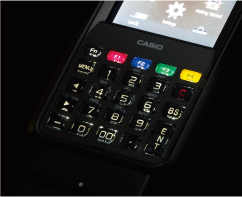 The larger backlit keyboard ensures accurate key operation in a dark environment such as a warehouse. Since the keys are printed on the inside, the markings do not wear off. Numeric keys are used to input numbers and characters.
2.0 Megapixel Camera with Autofocus
*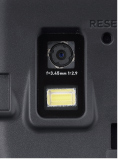 A 2.0 megapixel colour digital camera is integrated in some models of the IT-9000. With its powerful autofocus feature, this camera can capture high quality images for such tasks as identifying damaged goods, document capture and vehicle license number identification. The capturing of digital images can be incorporated seamlessly into the work-flow of the application without the need to use a separate camera or reconcile images and data records from two different devices. The IT-9000 offers excellent potential for solution enhancements and increased efficiency.
* IT-9000-GMC25E-C/GC25E-C
Excellent Environmental Durability
Casio designed the IT-9000 to deliver the usability required for outdoor work. The rugged body offers improved impact resistance to withstand drops of 1.5 meters, ensuring the high durability necessary for use even under conditions of rough handling.The terminal is compliant with IP54 * dust and water-splash proof standards and designed to ensure trouble-free operation in demanding environments such as heavy rain and sandy or dusty places.In addition, it is suitable for use in sub-zero temperatures or under the blazing sun (operating temperature range of −20°C to 50°C).
* Water splashed against the device from any direction has no harmful effects when all covers for connectors, etc. are closed.
| | | |
| --- | --- | --- |
| Drop durability test | Water-splash proof test | Dust proof test |
Human-Centered Design in the Uncompromising Pursuit of Usability
The IT-9000 reflects human-centered design processes applied in product development in the uncompromising pursuit of ease of use. It is surprisingly compact and light in weight for a fully featured multifunctional handheld terminal with built-in printer. The terminal was designed to be comfortable to hold it for long shifts without fatigue and to provide excellent operability in outdoor environments. The rounded form of the lower part of the device and the 79-mm grip length make the IT-9000 just the right shape and size for a secure grip. The centre of gravity is optimised to fit naturally in anyone's palm. The result is a device that places little strain on the hand even during long hour operation.
Human-Centered Design
| |
The Pursuit of Usability
| | |
| --- | --- |
| Objective | Enhancement of total product quality that customers experience |
| Method | Product development based on ISO13407 (human-centered design) process |
| Concept | Human-Centered Design |
Microsoft ® Windows ® Embedded Handheld 6.5
The IT-9000 series comes with Windows ® Embedded Handheld 6.5 as the operating platform. Two editions are available: Professional for WWAN models and Classic for other models. This is the latest platform for mobile devices and PDAs and is ideally suited for use as a basis for an enterprise or business solution. Windows ® Embedded Handheld 6.5 brings you the latest enhancements to the PDA user interface, allows efficient handling of various wireless technologies and opens up the possibility to run existing commercially available packages and software for the Windows ® Embedded Handheld family of devices.
SECURITY
Reliable security features to meet the needs of the times.
SSL Certification(SHA-2)
IT-9000-C models support SHA-2. SHA-2 is the collective name for SHA-224,SHA-256,SHA-384, and SHA-512.
IEEE802.11b/g/n Wireless LAN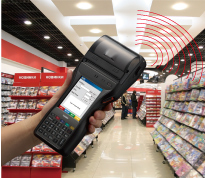 The IT-9000 has an integrated IEEE802.11b/g/n wireless LAN module.It is WPA2-compliant to ensure secure wireless communication and also supports the TKIP and AES encryption methods and authentication using 802.1x (PSK, PEAP, EAP-TLS). These communication features provide a high level of security to support worry-free real-time operation.
Net Search Wireless LAN Tool
The IT-9000 is equipped with Net Search, a support tool useful in the construction of wireless environments. It displays the channel usage of each access point as well as SSID, signal strength, and other information necessary for the crowded 2.4GHz band.Net Search has excellent capabilities as a radio wave environment measurement tool.
System Configuration