MEP-K10

Convenient Labemo Features
Labemo Promotion Video
Tape specially developed for the Labemo!
No adhesive residue! Easy to reattach!

Attach immediately! No wastepaper!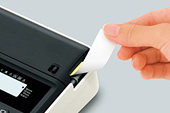 Vertical format for easy handheld operation!
Simple function keys for effortless operation!
Text options

Size

Character styles

Width

Character effects
Diacritical marks

Languages supported: English / Spanish / French / Portuguese / Czech / Polish / Hungarian / German / Italian / Dutch / Finnish / Swedish / Danish / Norwegian / Indonesian / Estonian / Slovene
Vertical printing

Large frequently used keys for ease of use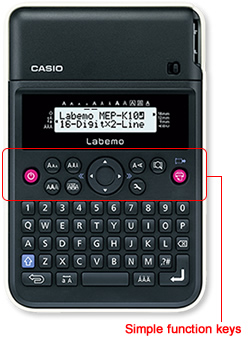 Labemo comes in handy in a variety of business applications!

Tape replacement is quick and easy.

Specifications
| Model | MEP-K10 |
| --- | --- |
| Display | Large 16-digit, 2-line LCD |
| Printing process | 96-dot thermal |
| Print resolution | 200 dpi |
| Maximum print height | 12mm (18mm tape) |
| Maximum print lines | 3 (18mm tape) |
| Fonts | Sans-serif |
| Character styles | Normal / Bold / Outline |
| Character effects | Box / Shading / Underline |
| Printing directions | Horizontal / Vertical |
| Message switching | No (due to iconifying) |
| Cutting method | manual |
| Power supply | 6 x AA-size alkaline batteries (sold separately) |
| Approximate battery life | 2 tape rolls |
| Accessories | Sample tape x 1, Instruction manual |
| Dimensions | H x W x D: 59 x 118 x 184mm |
| Approximate weight | 365g (without batteries) |