PX-3SBK

Beautiful Resonance and Rich Expressivity
Linear Morphing AIF
*

sound source
Linear Morphing AIF * sound source reproduces wider than ever, more natural fortissimos and pianissimos. A world-famous brand concert grand piano was used to collect samples of tones produced by four optimum key pressures for each note. Next, morphing technology was used to modify the notes for continuity.
The result is naturally smooth transitions from delicate pianissimos to powerful fortissimos, which brings you a level of grand piano expression that until now was difficult to reproduce in a digital piano.
*

Acoustic & Intelligent Filtering System
Acoustic Resonance System
An Acoustic Resonance System reproduces the string resonance of an acoustic piano that occurs when the damper pedal is depressed. Rich resonance that is like that of a grand piano makes it possible to produce expression-rich notes that sound more acoustically authentic.
Keyboard for realistic acoustic touch and improved play of successive notes
True and smooth grand piano level key action is reproduced using the actual weight of the hammer, without relying at all on springs. A Tri-Sensor Scaled Hammer Action Keyboard improves playing of successive notes, for a musical experience that is the next best thing to an acoustic grand. Of course, low notes play heavier and higher notes play lighter, just like an acoustic grand.
Mat finish keys for easier playability and an elegant touch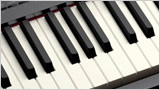 Elegant mat type keys have low-gloss surfaces that provide a surer touch and contribute to overall playability.
On-stage Control Of Multiple Sound Sources from a Single Location Tones and Enhanced Functions for Band Play and Great Live Performances.
A total of 250 tones (GM compatible), including 36 piano tones with 16 high-quality, high-clarity grand piano tones that are great for play with a band.
Built-in DSP (2 channels, 64 types, editing function) with versatile settings, including phaser, flanger, wah, tremolo, rotary effect, and more.
4-band (low range, low-mid range, high-mid range, high range) equalizer
Tone editor allows editing of attack, release, filter, and other parameters of built-in tones to create original tones.
Powerful Master Control function lets you assign a different MIDI channel to each of four zones for independent control of the tones and settings of up to four external MIDI devices.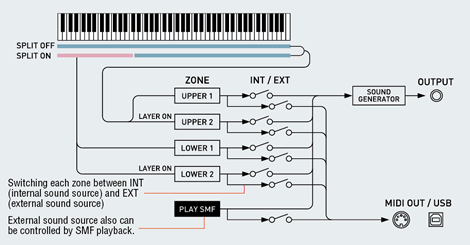 Registration memory (8 banks x 8 sets) for storage and instant recall of set ups
Two tones can be layered so they both sound at the same and the keyboard can be split between tow different tones.
Assignable switches can be assigned modulation or rotary effect speed switching, portamento effect, or other functions for smooth operation during performances.

Pitch bend wheel expands the range of music expression
Operation Lock disables button operation to prevent unintentional setting changes.
Line in/out, MIDI in/out, USB, and other terminals
Compact design for easy portability between performances or studios. The SC-700P optional carrying case shown in the photo can be used with the PX-3BK/330BK/130BK/130WE.