PX-130RD/BK/WE

Tones that take resonance and expressivity to the next level
Linear Morphing AIF
*

sound source
Linear Morphing AIF * sound source reproduces wider than ever, more natural fortissimos and pianissimos. A world-famous brand concert grand piano was used to collect samples of tones produced by four optimum key pressures for each note. Next, morphing technology was used to modify the notes for continuity. The result is naturally smooth transitions from delicate pianissimos to powerful fortissimos, which brings you a level of grand piano expression that until now was difficult to reproduce in a digital piano.
*

Acoustic & Intelligent Filtering System
Improved Acoustic Resonance System
Using the damper pedal adds acoustic resonance, which is similar to that produced by the vibration of strings in a grand piano. The result is richer, more acoustically natural expressivity.
New speaker construction for richer sound

A new type of speaker system is designed and engineered to enhance the clarity and beauty of the tones produced by the new sound source. With the PX-130RD/130BK/130WE, the speakers are located apart from each other for dynamically expanding sound.
128-note maximum polyphony
Keyboard for realistic acoustic touch and improved play of successive notes

True and smooth grand piano level key action is reproduced using the actual weight of the hammer, without relying at all on springs. A Tri-Sensor Scaled Hammer Action Keyboard improves playing of successive notes, for a musical experience that is the next best thing to an acoustic grand. Of course, low notes play heavier and higher notes play lighter, just like an acoustic grand.
Versatile features to support piano lessons
Right or left hand part off function for lesson play
You can turn off the left hand part or right part during playback of a Music Library tune, and play along with the remaining part.

Duet Mode
Duet mode allows two people to play within the same range.
Metronome
Recorder
The Music Library includes a choice of 60 tunes for lessons and listening enjoyment. (A score book is included.)
Two GRAND PIANO buttons and an ELEC PIANO button for instant access to the tone you want when you want it
Operation Lock Function
Operation Lock Function protects against unintentional button operations.
Comes with a pedal (SP-3)
Options

PX-130RD/BK:
Optional CS-67PBK stand and optional SP-32 3-pedal unit

PX-130WE:
Optional CS-67PWE stand and optional SP-32 3-pedal unit
The 3-pedal unit also supports half-pedal operation, for a light damper effect when the damper pedal is pressed part way.
For design reasons, use of the CS-67PBK stand is recommended with the PX-130RD/BK.
For design reasons, use of the CP-67PWE stand is recommended with the PX-130WE.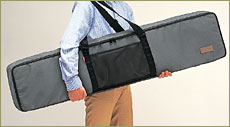 Compact design for easy portability
The SC-700P optional carrying case shown in the photo can be used with the PX-130RD/130BK/130WE/330BK.