LK-300TV

Connects to a TV !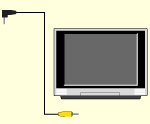 View karaoke tune lyrics as you sing!
During Advanced 3-Step Lesson, view the keys you need to press, fingerings, and evaluation scores on your TV screen as you play.
*

Comes with a video cable.
*

Supported video systems: PAL (LK-300TV-P), NTSC (LK-300TV-N)
TV Karaoke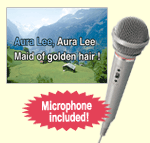 TV screen lyric display
Sing karaoke with built-in karaoke tunes and SMF with Lyrics.
Simple operations adjust the microphone volume level and the key of the tune.
*

English and other Roman alphabet based languages.
*

Due to copyright restrictions, the lyrics of some songs may not be displayed.
Advanced 3-Step Lesson System
TV Lesson Interface
View the keys you need to press and a fingering guide on the TV as you play. It's the easy way to see if you are playing the correct keys.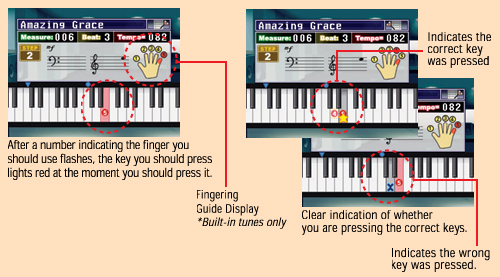 Scoring system
Scores appear on the TV and LCD, and a simulated voice lets you know how you are doing.
During Play…
Current results are indicated by an on-screen bar and star figure, and announced by a simulated human voice.

After Play…
At the end of the lesson, the keyboard rates your play both vocally and by displaying your point total.
Practice Phrase feature
The display shows the phrase where your point total was the lowest, so you can practice until you master it.

Voice Fingering Guide
If the keyboard detects that your play is lagging or stopped, or that you are playing the wrong notes, a simulated human voice calls out a number telling you what finger you should use to play the next note.
*

One-hand lesson available for 3-Step Lesson Step 1 and Step 2 only.
3-Step Lesson
Easy-to-follow instructions help make it easy even for novices to play

Right and left hand part on/off buttons for lesson play

*

Due to copyright restrictions, some pieces and tunes may not be included in the song book.
High-quality sounds & Versatile expandability
High-quality sounds

HL sound source for high-quality tones (including stereo sampled grand piano tone)
Digital effects for richer sounds (reverb: 4 types, chorus: 4 types)
Touch response for full musical expression (2 sensitivity levels, off)
Song Expansion
10 songs maximum, approximately 320KB total
CD-ROM includes an SMF Converter
*3

application for transferring SMF data from your computer to keyboard memory.
*1

SMF Format 0.

*2

SMF files. Requires SMF converter to transfer data to the keyboard. 3-Step Lesson and Scoring System supported, but Fingering Guide not supported. Music scores (PDF) for these songs are included on the CD-ROM.

*3

Supported operating systems: Windows ® 98SE/Me/XP Home Edition/XP Professional, Mac OS not supported. If you are using SMF Converter on a computer running Windows Vista ® (32-bit Version), be sure to download the newest version of SMF Converter from the CASIO Music Site ).

*

For the latest news about driver and application support under Windows Vista ® and Windows ® 7, visit here .
USB port for easy connection to a computer
*

Supported operating systems: Windows ® 98/98SE/Me/2000 Professional/XP Home Edition (SP2 or later) /XP Professional (SP2 or later, 32-bit), Mac OS not supported. For the latest news about driver and application support under Windows Vista ® and Windows ® 7, visit here .

*

Driver is included on the bundled CD-ROM

*

USB cable not included
SD memory card slot
*

Supported SD memory card capacities: 16MB, 32MB, 64MB, 128MB, 256MB, 512MB, 1GB

*

SD memory card not included