AP-620BK

Amazingly realistic tones and keyboard touch for a totally new piano experience.
Linear Morphing AIF
*

sound source
Linear Morphing AIF * sound source reproduces wider than ever, more natural fortissimos and pianissimos. A world-famous brand concert grand piano was used to collect samples of tones produced by four optimum key pressures for each note. Next, morphing technology was used to modify the notes for continuity. The result is naturally smooth transitions from delicate pianissimos to powerful fortissimos, which brings you a level of grand piano expression that until now was difficult to reproduce in a digital piano.
*

Acoustic & Intelligent Filtering System
Improved Acoustic Resonance System
Using the damper pedal adds acoustic resonance, which is similar to that produced by the vibration of strings in a grand piano. The result is richer, more acoustically natural expressivity.
128-note maximum polyphony
Keyboard for realistic acoustic touch and improved play of successive notes

True and smooth grand piano level key action is reproduced using the actual weight of the hammer, without relying at all on springs. A Tri-Sensor Scaled Hammer Action Keyboard improves playing of successive notes, for a musical experience that is the next best thing to an acoustic grand. Of course, low notes play heavier and higher notes play lighter, just like an acoustic grand.
Mat finish keys for easier playability and an elegant touch

Elegant mat type keys have low-gloss surfaces that provide a surer touch and contribute to overall playability.
2-way 4-speaker system for richer, powerful output

A 30w+30w high-output 2-way 4-speaker system outputs low-range notes, high-range notes, and everything in between with outstanding clarity.
Traditional piano design

A traditional piano design in a black wood finish creates a look that befits a fine musical instrument.
Versatile features to support piano lessons
Right or left hand part off function for lesson play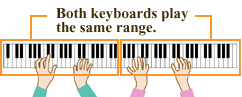 Duet Mode allows two people to play within the same range.
Metronome
Multi-track Recorder: 17 tracks x 5 songs, approximately 10,000 notes per song
3 pedals (damper, soft, sostenuto) with damper half-pedal operation support
Packed with versatile performance features
250 pro-quality tones including stereo-sampled grand piano tone
180 rhythms including ethnic rhythms and patterns for piano play
Rhythm Editor (10 user rhythms)
Tone selector buttons provide quick and simple access to GRAND PIANO, ELEC PIANO, and other tones.
Four rhythm selector buttons for simple genre-based rhythm selection.
Newly enhanced Music Preset feature now includes chord progressions for one-touch access to setups for a wide range of music styles. (300 presets and 50 user areas)
Registration (total 96 set-ups)
One Touch Preset (180 presets)
Auto Harmonize
Full-dot LCD with backlight
Digital effects: reverbs, choruses, brilliance, DSP (preset for some tones)
Selectable temperament
Layer, Split
Octave Shift
Operation Lock function protects against unintentional button operations.
Line IN/OUT jacks (L/MONO, R for each)
Song Expansion

You can download songs to a computer and then transfer up to 10 of them to digital piano memory and expand the number of songs available. *1 You also can use an SD memory card *2 to store song data and recordings of your performances. A USB port is provided for easy connection to a computer.
*1

Approximately total; Up to approximately 320KB per song.
Capacity values are based on 1MB = 1,024KB, and 1KB = 1,024 bytes.

*2

Supported SD memory card capacities: 16MB, 32MB, 64MB, 128MB, 256MB, 512MB, 1GB, 2GB
Playback of SMF; save and load of data; card formatting.