Approximately 280* images (140 minutes) on a single charge
* CIPA Standards:Normal temperature (23¼C), monitor on, zoom operation between full wide and full telephoto every 30 seconds, during which two images are recorded with flash; Power turned off and back on every time 10 images are recorded.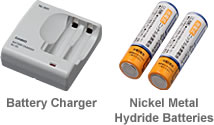 Comes with chargeable batteries and charger.
AA-size alkaline batteries can also be used.
* Alkaline batteries may not provide any operation when the temperature is 5 oC or lower.