3X optical zoom combines with a 6.0/7.2-megapixel CCD for beautifully detailed digital images. 4X digital zoom combines with optical zoom for total zoom capabilities up to 12X. Everything comes packed in a stylishly designed body that combines the very best of beauty and function.


This CASIO original image processing function makes it possible for the camera to correct brightness automatically when recording subjects that are too far for the flash to reach. It helps make images that normally might be blacked out brighter and clearer.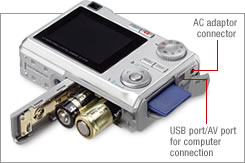 Two widely available AA-size batteries (alkaline) provide enough power to record 180 images. (EX-Z120: 170 images)
You can use lithium or rechargeable nickel metal hydride batteries for power.

Use the bundled cable to connect the USB/AV port to a computer for easy data transfer. You can also transfer images using a commercially available SD memory card reader/writer.


The Movie Mode records Motion JPEG movies with audio. You can keep recording a movie as long as there is memory to store it. 640 x 480-pixel (VGA) resolution keeps all of the action, clear, and realistic. You can even use the bundled AV cable to connect to a TV for big screen viewing fun.

Movie editing without using a computer
A useful Movie Cut feature lets you perform simple movie editing tasks right on the camera, without transferring the movie to a computer.

Easy movie screen shots
| | |
| --- | --- |
| | With Motion Print, can extract a specific frame from a movie and print is as a snapshot. A snapshot can include a single frame, or a total of nine frames. |


9-point Multi AF means you never need to worry about focusing again. When you press the shutter button, the camera automatically selects one of nine focus points, based on which one is aligned with the nearest subject, and focuses on that point. This helps to avoid loss of foreground images, and minimizes the change of images being out of focus.


*Red dots actually do not appear on monitor screen.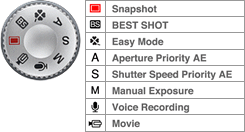 Aperture adjustment
Aperture can be adjusted to blur the background or to bring everything into sharp focus and create exactly the image you have in mind. Settings are manual, so you maintain total control over your images.
*
EX-Z110: F3.1 / F4.4(W),
EX-Z120: F2.8 / F4.0(W)

| | |
| --- | --- |
| | |
| Wide aperture | Narrow aperture |

Shutter Speed
Changing the shutter speed setting controls how movement appears in an image. You can use a slower speed so movement produces a blurred effect, or a faster shutter speed to freeze the movement of a drop of water or other moving subjects.

| | |
| --- | --- |
| | |
| Slow shutter speed | Fast shutter speed |