Simply connect the camera directly to a printer* for printing, without going through a computer. You can select the images you want to print right on the camera. This makes printing quick and easy, without troublesome software installation.


* PictBridge or EPSON DIRECT-PRINT compatible printer only.



PRINT Image Matching III Compatible*

Using image editing software and printing on a printer that also supports PRINT Image Matching III makes it possible to use information about shooting conditions that is recorded with the image, and produce exactly the type of image you want.
| | |
| --- | --- |
| | |
| * | PRINT Image Matching and PRINT Image Matching III are trademarks of Seiko Epson Corporation. |

Exif Print (Exif 2.2) Compatible*

Printing on a printer that also supports Exif Print (Exif 2.2) uses information about shooting conditions recorded with the image to enhance printed image quality.
| | |
| --- | --- |
| | |
| * | Contact your printer manufacturer for information about models that support these protocols, printer upgrades, etc. |


You can use the AV cable that comes bundled with the camera to connect to a TV and enjoy viewing images on a large screen. You can even connect to a DVD recorder and create DVD libraries of your movies.


PhotoLoader (For Windows and Macintosh)
Images are grouped automatically by date, and useful features include a slideshow function and much more.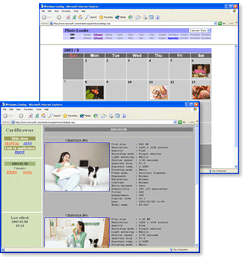 Image information is also displayed.

PhotoHands (for Windows)

PhotoHands includes retouching tools for adjusting image color, contrast, and brightness, for resizing images, and for changing image orientation. Printed images can be stamped with their recording date.

Ulead Movie Wizard SE VCD (for Windows)
This software can be used to add titles and music, and to perform other video editing tasks on your computer.