EX-ZR1000

Main Features
*1

*2
Further evolved structure makes photography even more "Quick, Beautiful & Fun"!

Tilt-type LCD(0to180°)

Built-in camera stand

New GUI design / Control Dial

Function Ring

High-speed technologies are transforming
the conventional idea of photography.
High Speed for intuitive photo-gratification.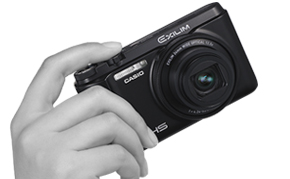 0.99-second start-up time
0.15-second high-speed AF *3
0.016-second shutter release time lag *4
0.26-second shooting interval *5
Beautiful at High Speed!
Premium Auto Pro
HDR
All-In-Focus Macro
Blurred Background
Fun at High Speed!
HDR-ART
Art Shot
HS Night Shot
Wide Shot
*1

: Converted to 35mm film format.

*2

: Approximate; CIPA standards. Normal screen brightness (based on CASIO data)

*3

: Approximate: With the built-in flash off.

*4

: Super-resolution technology enhances zooming by up to 2 times of optical zoom while maintaining clarity and image quality.

*5

: HDMI, the HDMI logo and High-Definition Multimedia Interface are trademarks or registered trademarks of HDMI Licensing LLC.

*6

: 1080 / 50i output is not supported for PAL output using HDMI™.
Designs and specifications are subject to change without notice.
All images shown here are simulations for explanatory purposes only.
Actual images may appear different from those shown here.