EX-TR15

Main Features
*1

*2
*4

Powered by EXILIM Engine HS, Ver. 3
An advanced EXILIM Engine creating beauty for a new generation
New Brightening Mode for further beauty enhancement
A new Brightening Mode has been added to the Make-up Mode (Natural Mode) to give skin a lighter tone and smoother texture. This new mode makes a subject's skin look beautifully smooth, while applying a brightening effect.
Advanced self-portrait function
Self-portrait Shutter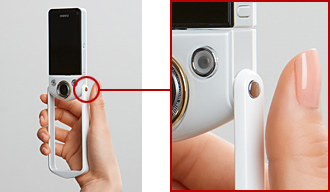 A shutter button located on the frame lets you release the shutter with the hand holding the frame when shooting self-portraits.
Remote-controlled shooting by smartphone
The ability to check your image composition, shooting angle and pose on your smartphone screen before taking a shot means you can shoot more appealing self-portraits.
* Installation of the dedicated EXILIM Remote app in your smartphone required.
920,000-pixel LCD presenting beautiful images
The 3.0-inch, 920,000-pixel high-definition LCD displays images beautifully, both during and after shooting.
Wi-Fi function for smartphone connectivity
The ability to control remote shooting with your smartphone and then transmit photos from the camera to your smartphone immediately after you take them adds enjoyable new versatility to your photographic experience.
* Installation of the dedicated EXILIM Remote app in your smartphone required.

EXILIM Engine HS, Ver. 3, making photography "Quick," "Beautiful" and "Fun"
Stress-free photography in a wide variety of shooting styles
Approx. 1.0-second start-up time *4
Approx. 0.18-second high-speed AF *4
Approx. 0.31-second shooting interval *4
Capacitance touch panel with excellent operability
Charming multi-colored GUI
Beautiful results with a press of the shutter button
Make-up Mode

Premium Auto Pro
HDR

More fun during and after shooting
Decoration Function
Art Shot
HDR-ART

*1 Approximate; CIPA standards. Normal screen brightness (based on CASIO data)
*2 Converted to 35mm film format.
*3 Image stabilization possible when merging sequential images taken with a single press of the shutter button(With "High Speed Anti Shake" selected in BEST SHOT Scenes)
*4 Based on CIPA standards.
"The Wi-Fi CERTIFIED Logo is a certification mark of the Wi-Fi Alliance." should be used in addition to the appropriate notice symbol to indicate that the Wi-Fi Alliance owns the Logo.
iPhone is a trademark of Apple Inc. registered in the United States and other countries.
App Store is a service mark of Apple Inc.
IOS is a trademark or registered trademark of Cisco Systems, Inc. registered in the United States.
Google PLAY is a trademark of Google Inc.
Android is a registered trademark of Google Inc.
All images shown here are simulations for explanatory purposes only.
Actual images may appear different from those shown here.