EX-TR10

Main Features
*1

*2

*4

Powered by EXILIM Engine HS, Ver. 3
An advanced EXILIM Engine creating beauty for a new generation
New Brightening Mode for further beauty enhancement
A new Brightening Mode has been added to the Make-up Mode (Natural Mode) to give skin a lighter tone and smoother texture. This new mode makes a subject's skin look beautifully smooth, while applying a brightening effect.
Advanced self-portrait function
Self-portrait Shutter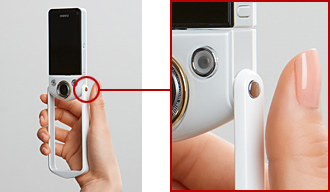 *
Photos taken with EXILIM model TR15.
A shutter button located on the frame lets you release the shutter with the hand holding the frame when shooting self-portraits.
920,000-pixel LCD presenting beautiful images
The 3.0-inch, 920,000-pixel high-definition LCD displays images beautifully, both during and after shooting.

EXILIM Engine HS, Ver. 3, making photography "Quick," "Beautiful" and "Fun"
Stress-free photography in a wide variety of shooting styles
Approx. 1.0-second start-up time *4
Approx. 0.18-second high-speed AF *4
Approx. 0.31-second shooting interval *4
Capacitance touch panel with excellent operability
Charming multi-colored GUI
Beautiful results with a press of the shutter button
Make-up Mode

Premium Auto Pro
HDR

More fun during and after shooting
Decoration Function
Art Shot
HDR-ART

*1 Approximate; CIPA standards. Normal screen brightness (based on CASIO data)
*2 Converted to 35mm film format.
*3 Image stabilization possible when merging sequential images taken with a single press of the shutter button(With "High Speed Anti Shake" selected in BEST SHOT Scenes)
*4 Based on CIPA standards.
All images shown here are simulations for explanatory purposes only.
Actual images may appear different from those shown here.