EX-N5
Main Features
*1

*2
CMF Design
Leveraging 3 Key Factors in Product Structures: Color, Materials and Finishing CMF Design is an approach that synchronizes these three factors and sublimates them to realization of designs with irresistible appeal.
These new model's developers have made the most of CMF Design to achieve a distinctive lineup.
Simple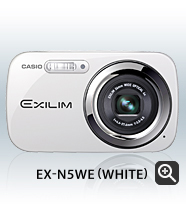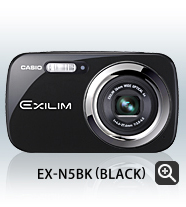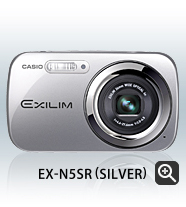 A refined compact model for those who appreciate simple, high-quality styling.
The ring enclosing the lens perimeter is constructed of two-toned silver-colored parts, unifying the overall styling and imparting a smart, cool impression.
The clear coating brings out the rich gloss and luster of the pearl finish, and the gleaming surface expresses high quality.
The camera's sleek curved surfaces and rounded form make it inviting to hold in your hand.
Sweet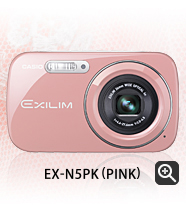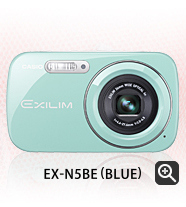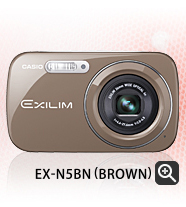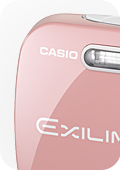 A compact model adorned with the delicate colors of sweets that girls find irresistible.
Silken silver-colored accents embellishing the top surface and operation keys add a finishing touch to the graceful charm of the design.
A pearly coating and sleek curved surfaces combine in its gentle appearance.
Premium Auto
Make-up Function
34 BEST SHOT Scenes(included 8 ART Shot and Self-portrait)
Dynamic Photo
Anti Shake Mode
HD Movie
One-touch Operation Buttons
Simple USB Charging
Eye-Fi Card Compatible
FlashAir™ Wireless Card Compatible
*1

: Converted to 35mm film form.

*2

: Based on CIPA standards.