LAMP FREE

Outstanding cost performance
Total cost of ownership (TCO) includes not only the projector's purchase price but also all the expenses incurred during its lifetime of operation. CASIO's original SSI * light source with its extremely long lifetime of 20,000 hours and low power consumption realizes exceptional cost performance compared with conventional mercury lamp projectors through savings on expenditures for lamp replacement and the associated labor and lost operating time as well as for electric power.
* SSI (solid state illumination) light sources employ LEDs, lasers or other such lighting technologies.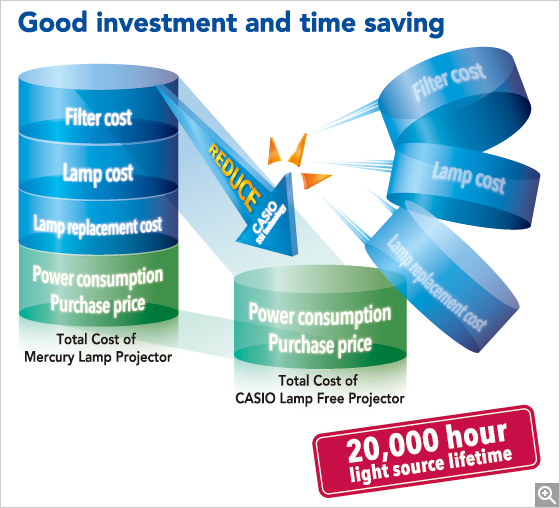 ECOLOGY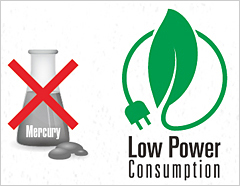 CASIO projectors are equipped with an SSI * light source employing the mostadvanced light source technology. Although the use of mercury is widely prohibited worldwide today, this hazardous substance continues to be employed as a light source for conventional projector lamps. CASIO has eliminated the use of mercury from its products in consideration of the environment. Adoption of an SSI light source, combined with CASIO's original energy-saving design, also contributes to reducing CO 2 emissions.
* SSI (solid state illumination) light sources employ LEDs, lasers or other such lighting technologies.
Quick startup and Quick restart
CASIO projectors achieve a startup speed far exceeding that of conventional mercury lamp projectors. Free from the conventional projector's need for both warm-up and cool-down time, moreover, they also achieve a fast, convenient restart after use.

CASIO Advanced Technology

Made in Japan
CASIO projectors are manufactured to perfection at our factory in Japan. Users are assured of reliable made-in-Japan quality.

Dust resistance
An original CASIO dust-resistant structure is adopted to protect the projector's critically important core block from incursions by dust, a common cause of deteriorating brightness.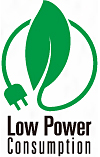 Low Power Consumption
An optimal product design minimizes power consumption to yield superior energy-savings. This adds further support to users' everyday efforts to conserve electricity.
Environmentally friendly product development
Lamp-free technology eliminates the use of projector lamps containing highly toxic mercury to help protect the environment. CASIO has deployed core technologies pursued since its establishment to develop compact, lightweight, slim, energy-efficient projectors with low environmental impact.

See the following Website for details : Sustainability