Success Story in Serving Electric Power
Summary of the story
| | |
| --- | --- |
| Importer/Distributor | : Powercomp Automation SDN. BHD. |
| Customer | : Syarikat Sesco Berhad |
| Location | : The State of Sarawak, Malaysia |
| Product | : CASIO IT-600M30 and IT-600M30E2 PDAs |
| Application | : Public Utility Service (Electric Power) |
User's Profile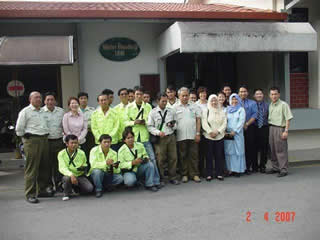 Team of power meter reading of Syarikat Sesco Berhad
Syarikat Sesco Berhad is a wholly-owned subsidiary of Sarawak Energy whose mission is to reliably supply electric power and at lowest cost possible for development of the State and contribute to the improvement of quality life of the people of Sarawk state in Malaysia. They are responsible for generation, transmission and distribution of electricity throughout the state.
The headquarters is located at Petra Jaya, Kuching, Sarawak. Their supply covers about 400,000 domestic habitants and 77,000 commercial and industrial customers.
Problems in the Past
Before the employment of the new Casio IT-600 series PDA, the handheld terminal they had used was obsolete in hardware, the price and maintenance cost was high. It also had a high rate of failure that often disturbed the daily meter reading and billing process. Needless to say that it caused the firm to struggle to fight against money drawn for the maintenance. The software integrated in the terminal was also obsolete. It was DOS-based.
Good Things about the IT-600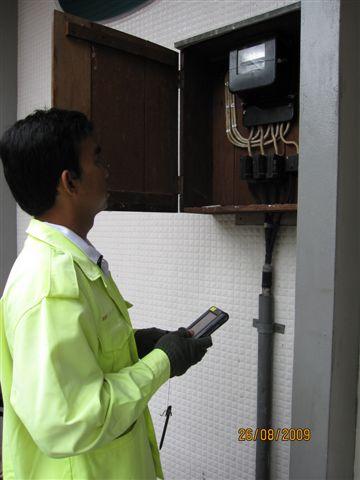 Reading the indicator on electric power meter while holding the IT-600 in hand.
The Casio IT-600 is more cost-effective and has better specifications and several improvements over the legacy handheld terminal that the electric power company had used. It is also light in weight, user friendly with the integrated GUI interface and touch screen while the robustness is not sacrificed. With a Bluetooth portable printer configured with the IT-600, bills can be issued easily to customers in short time. The wireless communication in Bluetooth between the IT-600 and bill printers and PCs provides the convenience and efficient operation. It can also eliminate any possibility of malfunction caused by cables if they are used to establish connection between the devices.
Hardware Configuration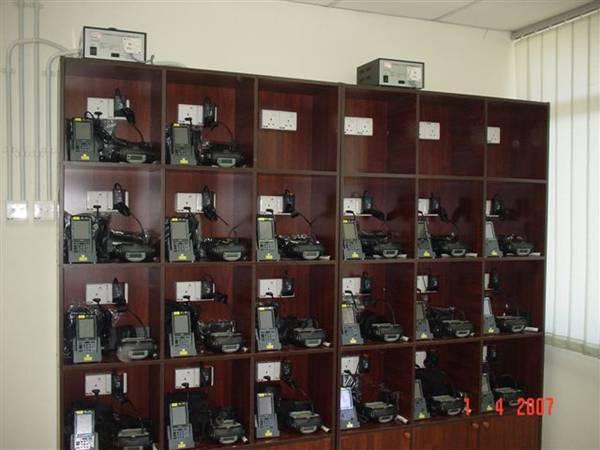 IT-600 PDAs are stored in pigeon-holes cabinet for charging at the end of use.
From April 2007 to October 2009, the electric power company has purchased 212 units of IT-600 series PDAs with the following hardware configuration.


- IT-600M30 Handheld PDAs with Bluetooth
- IT-600M30E2 Handheld PDAs with Bluetooth
- Zebra RW420 Portable Printers with Bluetooth
- HA-D60IO USB Cradle c/w USB cable
- BlueGiga WRAP Access Server
- HA-D32DCHG Dual Battery Charger
- Zebra RW Lithium Ion Quad Charger
- Series Fast Charger Li71 (1 Way)