Success Story in Retail Stocktaking - DT-X7 Version -
Summary of the story
| | |
| --- | --- |
| Importer/Distributor | : CASIO Electronics Co. Ltd., UK |
| Solution Provider | : BNE Electronics Limited |
| Customer | : Wilkinson, UK |
| Product | : CASIO DT-X7M10R Industrial Handheld Terminal |
| Application | : Retail stocktaking |
Profile of the User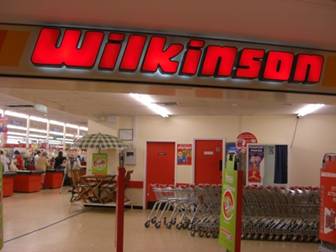 An outside view of Wilkinson store
Wilkinson has 320 stores across England and Wales with larger stores selling around 20,000 products varying from food to garden furniture. The large number of products means stocktaking must be carried out quickly and efficiently to get done in a given time period. Wilkinson has currently formed 3 retail audit teams each consisting of 19 people.
The Challenge
Wilkinson has worked with
Casio Electronics
and
BNE Electronics
for over ten years. Since its foundation 25 years ago, BNE Electronics, a local solution provider in the UK, has focused on designing and developing cost effective solutions using the most up to date technology available at that time. On the other hand, Casio had supplied advanced and superb handheld data collection terminals such as Casio
DT-800
,
DT-810
and
DT-X5
series. Wilkinson however determined recently to upgrade their system including hardware for retail stocktaking purposes.
Among various advanced handheld data collection terminals, including ones offered by well-known competitors, Wilkinson chose the Casio
DT-X7
series handheld terminal for its future hardware upgrade. The
DT-X7
is a light-weight and grip-type handheld terminal with built-in laser scanner. Initially 25 pcs of the terminal were installed with a subsequent installation of 50 pcs once the first units were fully working and the system performing well.
Casio DT-X7 Exceeds Our Expectation
The Casio DT-X7M10R is grip-type handheld terminal with built-in laser scanner and WLAN module compliant with IEEE802.11b/g. This light-weight terminal is designed in accordance with the concept of Human-centered design for interactive systems based on the internationally recognized ISO13407 standard. The DT-X7 has versatile communications, WLAN, Bluetooth and IrDA. Its contoured design makes it comfortable to hold and easy to handle for long periods. The unique shape allows quick and accurate bar code scanning with an excellent first-time read rate. The keyboard is designed to reduce the number of key input errors by the user.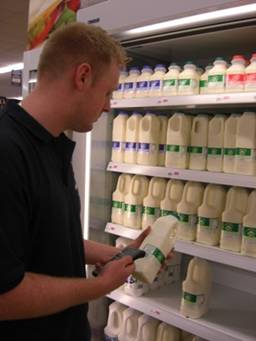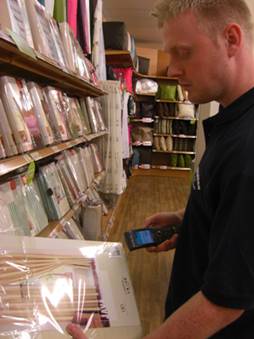 Wilkinson has praised several fantastic features of the DT-X7 including;
| | |
| --- | --- |
| - | Quick training and implementation of solution |
| - | Brighter and clearer screen which is extremely reliable |
| - | Increased ruggedness |
| - | Light-weight, significantly reducing fatigue |
| - | The ability to check scanned bar code |
| - | Large memory with over 40,000 SKUs recorded |
"The DT-X7 is very user friendly and alike to a mobile phone. Battery life is excellent and the speed of scanning is impressive. It really does exceed our expectation." said Helen Cutts, a stock manager of Wilkinson. Wilkinson looks forward to expanding their business and continuing to enhance their stocktaking system with BNE Electronics and Casio. "We are really pleased with Casio and BNE and that the speed and implementation of service provided by them is great" states Helen. The entire solution was shortlisted for the Retail Systems Awards 2008 in the Back Office Solution category.