Versatile wireless communication helps in package tracking and tracing
Summary of the story
| | |
| --- | --- |
| Importer/Distributor | : CASIO GmbH |
| Solution Provider | : PDS GmbH |
| Customer | : DACHSER |
| Location | : In Germany |
| Product | : DT-X10 Series Industrial Handheld Terminal |
| Application | : Logistics – Collection and Delivery of Packages |
User's profile
Dachser is one of Europe's leading logistics providers with its head office in Kempten in Germany. The firm provides all kinds of logistics services including air and sea logistics as well as food logistics, serving all over the Europe and worldwide. The firm was founded in 1930. Since then the company expanded up to a total number of over 15,000 employees today at 256 locations worldwide. In the fiscal year 2006 Dachser has achieved a turnover of 3.1 billion Euros.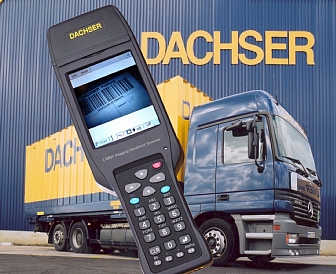 Dachser delivery truck and the CASIO DT-X10
Durability, flexibility of the system and versatile wireless communication
"Dachser has chosen the CASIO DT-X10", explained a manager of the Mobile Industrial Solutions Division in CASIO Europe, "because it is an industrial handheld terminal that is extremely durable. It is durable enough to stand against a fall onto concrete floor in height of 1.2 meters and meets a protection level of IP64 of the international standard against dust and water-splash for use in harsh environment. It is also capable of a versatile wireless communications via either Bluetooth or WLAN or GPRS with an optional card at the PC card slot available from a third party", continued by the manager. On the road to the deployment of the CASIO DT-X10 by Dachser, the client's needs were thoroughly focused in the beginning and then each one of them was carefully studied and adjusted for the best possible result. A prominent local solution provider in Germany,
PDS GmbH
, who can also perform tailored hardware adjustment and housing rebuilt, was responsible for the implementation.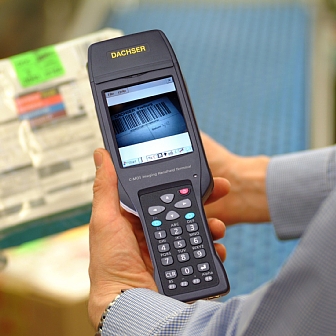 Capturing an image including bar code on package using the DT-X10 handheld terminal with tailored hardware option installed at the CF card slot
The total number exceeded 4,000
An important element of integrated information logistics is collecting mobile data. Now, this can be performed by using the DT-X10 handheld terminals – tailored version specifically for Dachser.
In this project, the total number of the terminals actually deployed by the client exceeded 4,000 and has been a result of the collaboration with the
PDS GmbH
who specializes in solution for mobile data collection. Dachser uses the handheld terminals as a part of the NV-Online (short traffic online) project. With NV-Online, the electronics serial numbers (ESN) of packages are scanned at the package collection stage or delivery stage. A customer also provides a digital signature on the terminal as receipt authentification. That data is transferred from the terminal to the Dachser IT Systems via GPRS at ongoing basis. Within a few seconds, the data is available as status information to those who are involved in the package flow, making it possible to track or trace concerned packages. This gives the client the ability to find the exact current location of the concerned package at any time, any where.