A CASIO speeds up internal ordering process at Ihr Platz
Summary of the story
| | |
| --- | --- |
| Importer/Distributor | : CASIO GmbH |
| Customer | : Ihr Platz, Germany |
| Location | : Germany |
| Product | : DT-X10M30E Industrial Handheld Terminal |
| Application | : Retail |
User's profile
Ihr Platz
GmbH + Company KG is one of Germany's top three drugstore chain operators, with more than 830 stores throughout the country.
Ihr Platz
, which means "Your Place" in German, owns nearly 690 stores. The company's network also includes 145 franchised stores. Altogether, the
Ihr Platz
group's network includes a combined floor space of nearly 275,000 square meters, more than 8,000 employees, and sales of EUR 840 million (approximately US$1 billion) in 2004. The company claims an 8 percent share of the total German drugstore market.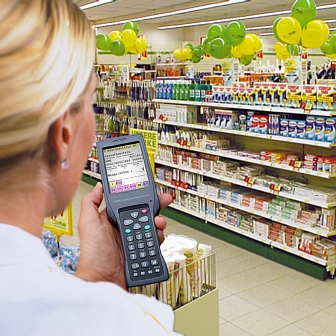 In an Ihr Platz drug store, neatly lined selling products on shelf appear to be well controlled and managed by the new system.
What's good about the CASIO ?
Each store of the group is supplied with one or two units of the CASIO
DT-X10M30E
industrial handheld terminal with integrated Bluetooth® for wireless connection to the store own server.
Ihr Platz
uses the mobile devices for optimization of its information logistics in the internal process. All the devices have to communicate with two different types of electronic cash register which are installed in the stores. The CASIO handheld terminals integrate a CMOS imager for reading industrial 1-dimensional bar codes or 2-dimensional codes printed on each selling item and can be easily expanded with either RFID, WLAN, GPRS or UMTS module to be built in if necessary. This is extremely convenient for the use of the terminals beyond the usual local networks. Thanks to the modern handheld devices
Ihr Platz
has now a mobile way to immediately access to changes in stock data and therefore can meet out-of-stock situations very quickly for promptly filling out the empty stock items. Not only the supply situation has been improved substantially, but also the readability with the integrated CMOS imager on faded barcodes has no longer been a nuisance to the operator. No problem anymore.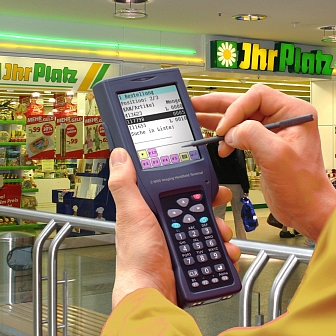 DT-X10 helps prompt filling out empty stock.
Adopting the CASIO resulted in half of the time frame in all the stores
"In every store there are one or two units of the CASIO DT-X10 handheld terminal in use. With these new devices we have increased the transparency of processes and of every single order," said Volker Witteriede, the project manager of
Ihr Platz
. "Statistic reports and queries of data should be there exactly when they are in fact needed. Gathering information can now be done quickly and efficiently, the time frame for ordinary ordering process has been reduced to approximately half. After the installation of the new devices we can process about 7, 000 to 8,000 transactions per week."