Malaysia's utility giant seeks efficiency in meter reading
Summary of the story
| | |
| --- | --- |
| Importer/Distributor | : Powercomp Automation Sdn. Bhd. |
| Customer | : Tenanga Nasional Berhad ("TNB") |
| Location | : Nationwide in Malaysia |
| Product | : DT-X5M10E Industrial Handheld Terminal |
| Application | : Meter Reading |
User's profile
Tenaga Nasional Berhad (" TNB "), Malaysia's national electricity utility company, has been established in September 1990 through a national corporatization and privatization exercise for rapidly growing energy demand.
TNB is currently serving over six million customers throughout Peninsula Malaysia providing electric power. To date TNB has 13 offices at state level, 37 area offices, 53 branches, 32 small branches, and 142 Kedai Tenaga throughout Peninsular Malaysia to provide better facilities, convenience and more efficient customer services in all sectors including electricity meter reading.
TNB focused into the ruggedized product
The previous handheld product was deployed in the 90s and is now obsolete. Due to the obsolescence, maintenance of the equipment became challenging and also costly for TNB .
Being a handheld user since the 90s, TNB fully understands the importance and benefit of having ruggedized product that they had learned from the previous product.
With this regard, the TNB set out on their meter reading product replacement exercise with specifications for having ruggedized feature and physical toughness i.e. drop durability, dust and water-splash proofing, and numeric keyboard.
After serious consideration and comparison in all the aspects over and over with other existed competitor models, the CASIO DT-X5M10E was selected due to the superior features that it has in particular on the numeric keyboard, compact size, light weight, Bluetooth interface and also the being cost competitive providing value for investment.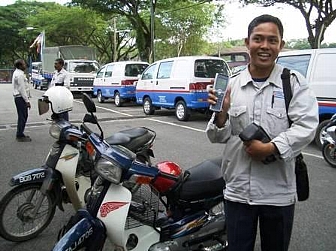 One of the TNB 's meter reader is delighted with DT-X5M10E showing his pleasing smile in the morning just before starting his day meter reading assignment.
The best system configuration offered by the local distributor
After many discussions with TNB by Powercomp Automation Sdn. Bhd. , the authorized importer and distributor in Malaysia for all the CASIO handheld terminals, TNB finally selected the solution from Powercomp Automation based on the best system configuration including the CASIO products below that was able to meet TNB 's tough requirements.
Starting in April 2005 and ending the mid of this year, Powercomp Automation has successfully carried out all site installations with over 2,000 units of the DT-X5M10E throughout TNB 's nationwide offices in collaboration with TNB .
Typical hardware configuration
DT-X5M10E
: Industrial Handheld Terminal
HA-A20BAT
: Battery Pack
HA-A60IO
: Bridge basic Cradle
HA-A30CHG
: Cradle-type Battery Charger
Access-Point for Bluetooth communication (product by third party)
Portable Printer (product by third party)