Alabama Municipal Court (Parking Enforcement)
Summary of the story
| | |
| --- | --- |
| Solution Provider | : EZTag Corporation |
| Importer | : CASIO Inc. Industrial Handheld Division |
| Customer | : Montgomery Alabama's Municipal Court in Alabama State, USA |
| Location | : Within the state of Alabama in the USA |
| Product | : IT-3000M55U Industrial Data Terminal |
| Application | : Parking enforcement |
User's profile and the background of modernizing parking enforcement
Montgomery Alabama's Municipal Court ("the Court") took a long awaited, well planned, technological step into modern parking enforcement operations. EZTag Corporation, a leading provider of citation issuance and management solutions, and CASIO provided the mobile solution to get them there. First and foremost, the Court required reliability. They wanted a single-vendor turn-key solution that would perform day after day without the burden of handling system failure – a system that would allow them to focus on what they do best – parking enforcement. The Court had been using a mainframe system to manage and track parking tickets since the mid 1990's. Parking violation tickets were issued in the field manually or with handheld ticket writers and printers. Annually, the majority of parking violations (85,000 to 110,000) is issued with the hand-held ticket writers and printers. Records were electronically batch uploaded each day into the city's mainframe for further processing.
Reliable and cost effective automated enforcement was the Court's objective
The Court's previous enforcement system of 10 years had required frequent repair returning the system to the Court with maintenance fee increases of 40% and a significant increase in the hand-written portion of their 90,000+ annual tickets, due to the unreliability of their previous handheld ticket writers. The Court's wish for reliable, straight forward, cost effective automated enforcement was realized through EZTag's MES - Mobile Enforcement System coupled with CASIO's IT-3000 Industrial Data Terminal with integrated durable printer. The solution offered immediate feature/benefit returns, as one of the compelling features of MES is its ease of use.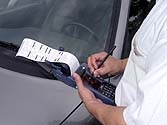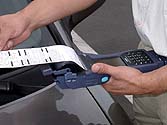 Printing parking violation ticket using the CASIO IT-3000
The CASIO IT-3000 has served as an excellent fit offering maximum portable data collection functionality in a streamlined footprint from a company known for reliable and feature rich electronic equipment. The IT-3000 also provides portable computing and printing capability in a durable one piece construction with excellent power management and communications capability. Additionally the IT-3000 houses internal Bluetooth and an industry standard PCMCIA slot for future expansion potential, for instance installing a WLAN card in the slot. The Court's choice of WLAN communications means no cables. The installed handhelds may be moved around the location within the range of the wireless network access point. Moving forward, the Court has the option of adding inexpensive routers to their network for more distributed access.
EZTag's MES is an accurate and efficient, electronic citation issuance and management solution that replaces paper booklets. An officer issues citations using a handheld computer, laptop or tablet PC and prints them onto a mobile thermal printer. With its modular design, MES delivers an, off-the-shelf, enterprise mobility data collection and management solution at a fraction of the cost of in-house or customized solutions. As a result, features can be supplied in a variety of formats, conforming to a particular city's judicial and agency requirements.
Adding value to the Court's immediate enforcement needs was EZTag's AMS – an asset management system capable of tracking and reporting statuses of the City's parking enforcement assets. Typically applied to parking meters, the system manages the process from the initial identification of a problem to the investigation and repair by the City's qualified technicians.
EZTag 's MES Host, which acts as a distribution center for parking enforcement, receives ticket data, transmits handheld updates, and directs data traffic to other application servers requiring parking data from MES. This PC based application runs on any existing desktop computer on the Court's network. Through scripted imports and exports, data is retrieved and deposited to any servers required by the Court. With the cooperation of the Court's network administrator, the MES Host is made accessible through VNC for timely EZTag support. EZTag also provided tailored reporting to complement the array of standard functionality already provided.
The Court is delighted with the new system
The Court was happy that the entire system was installed, users were trained, and system was up and fully functional in under a week. Their objectives for implementing the new system are also being achieved with the advantages of reliability, an integrated printer, most number of handhelds for their budget, ease-of-use and automated communications. Cost savings are already being achieved with the cessation of the prior high maintenance expenses, the opportunity cost of down units, and less human intervention applied to daily enforcement management due to the high functionality and automation provided by EZTag's enforcement solution.
The Montgomery Court Clerk voices that the City is pleased with their purchase/implementation and are satisfied they made a sound business decision. The Court made it clear they wanted a straight-forward reliable enforcement solution to provide as many units as possible within their assigned operating budget. The EZTag/CASIO solution met their objectives with a path for future growth that no other vendor could provide.