High-Tech Approach to Solving Basic and Perennial Problem
Summary of the story
| | |
| --- | --- |
| Country | : Singapore |
| Distributor | : Singapore Ark Tech Pte Ltd |
| Customer | : Sheng Siong Supermarket Pte Ltd |
| Location | : Singapore, Singapore |
| Terminal | : IT-500M30R, IT-500M30CB Handheld Terminals |
| Business Type | : Retail |
Story at a glance
SHENG SIONG
has built a reputation on its no-frills and as low-priced supermarket chain throughout Singapore, but there is nothing an inexpensive and effective way with its new high-tech approach to solving one of the most basic and perennial problems in the retailing.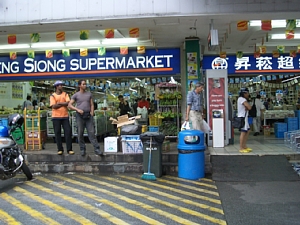 "Sheng Siong Supermarket" at one of the busy streets in Singapore.
With the implementation of the
CASIO IT-500M30R
handheld terminal as front-end ordering system together with backend ERP ("Enterprise Resource Planning") solutions in all the branches island wide, it is spending as little as SG$1.5 million for this cutting-edge computer system that revolutionizes the stock management by enabling a direct computer-based link to the various product suppliers of the supermarket.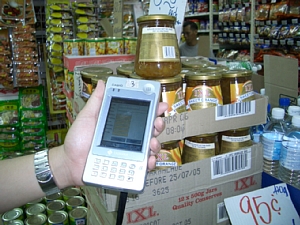 Price verification with the backend computer system on IT-500M30R
For example, if there is a sudden rush for a particular brand of biscuits, there is no risk of the shelve becoming empty, as the biscuit supplier would get a constant computer-generated update by the computer system on the packets being sold.
This helps the supermarket solve the perennial problem, that is, too much stock means a high cost of storage in warehouse, or too little stock means a loss of sales chance and its customer.
The new system, which is expected to go online in Sheng Siong supermarkets in about 12 months, is similar to those used already by the World no. 1 retailer Wal-Mart of the United States and the leading British supermarket chain Tesco. Sheng Siong's adoption of this technology is a part of the new initiative by
Singapore Ark Tech (Pte) Ltd
of CASIO authorized distributor.
The total number of the units including
CASIO IT-500M30R
handheld terminal and
IT-500M30CB
handheld terminal to be installed in the supermarket chain alone will exceed over 50 units in a few years.
All the products are neatly shelved and controlled by the new computer system.
For Sheng Siong supermarket, "The new technology will surely save both time and money in terms of paper work, warehousing and manpower and generate remarkable profit for us", said Mr. Lim Hock Chee of the managing director.
In other words, it will not need staff with clipboards running up and down aisles, and checking the warehouse, trying to keep track of stock levels. It can also be more nimble by keeping less stock in the warehouse.
Singapore Ark Tech
also believes that any company adopting the technology will boost their profits by SG$15 million from increased sales over the next three years.