Trade Show Events with DT-X10 in the USA
Summary of the Story
| | |
| --- | --- |
| Country | : USA |
| Distributor | : CASIO Inc. |
| Dealer/System Integrator | : - |
| User | : ARsystems International and Odyssey Software |
| Industry | : Trade show producer |
| Location | : USA / Canada |
| Product | : DT-X10M30URC and DT-X10M30U |
Type of business and profile of the user:
ARsystems "
ShowCare Systems Solution
" provides show registration, enhanced services, and lead management solutions to major event-and-show producers.
ShowCare
can make trade show event producers and exhibitors reduce the cost of registration for attendees utilizing web-based online and on-site registration systems, increase revenues of attendance and sponsorship through the system integrated marketing programs. It also saves enormous labor cost in repetitive tasks through the automation, and improves attendee/exhibitor satisfaction through real-time data capture and management.
Model Nos. :
DT-X10M30U and DT-X10M30URC
Total number of installation units:

Total number of installation units:
Summary of the system overview and application software :
ARsystems
ShowCare
system consists of Windows 2000 Server running SQL Server applications for regis tration and lead capture. ARsystems developed their own application for registration that was used with wired PC clients at show front. ARsystems utilizes the Odyssey Software LeadTracker application for lead retrieval. This consists of the CASIO DT-X10 Mobile Lead Retrieval Client that communicates either through Wireless LAN (IEEE802.11b) or USB (wired) communication with the Lead Retrieval Server which also utilizes Odyssey Web Tools to make leads available via internet on real-time basis.
Integrated Major Devices in the Terminals:
CMOS Imager
Scanning 1D and 2D (PDF-417) symbologies.
Large capacity 3,400 mAH Lithium-ion battery
10 hours of continuous operation while communicating on-line via 802.11b and scanning PDF-417 symbology 1,200 times.
Bluetooth connectivity
Future use for in-booth exhibitor lead printing.
USB port
For batch client/server communications in lieu of 802.11b availability.
Brilliant TFT color display for viewing in varying conditions
Character and image recognition on the screen has been remarkably improved for outdoor use.
Show security visual attendee photo identification is possible.
Three units of the Dual Battery Charger (DT-5022CHG) connected in the "6 Pack" configuration make it possible for maximum battery charge performance with minimal footprint in show offices.
Cradle and Cradle-type battery charger are also available for data communication with PC and for charging the battery pack while it is installed in the terminal convenient at exhibitor booth and in show offices.
SQL Server Database with ARsystems Registration Software and Odyssey Mobile CE.Net Lead Retrieval Clients running under Windows2000 Server(s), as well as WebServices utilities. 802.11b backbone and CASIO DT-X10M30URC (with integrated 802.11b) or CASIO DT-X10M30U with Ambicom CF 802.11b.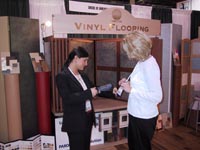 Why the user chooses the CASIO models ?
What was the problem with user?
ARsystems wanted to upgrade their offering from proprietary fixed mount hardwired batch lead retrieval devices to a more open architecture, powerful, flexible, portable and real-time solution. ARsystems also wanted to form more of a partnership relationship with their systems component vendors.
Proposal made to the user :
The value of the CASIO DT-X10 and the ability to work closely with the CASIO team was paramount. None of the competitive units offered the combination of large battery, brilliant display, ergonomics, connectivity, and ruggedness that the DT-X10 did.
Competition during negotiation :
Initially everyone was the competition with the early leader being the Toshiba e740 and finally the Symbol PDT-8146 vs. the CASIO DT-X10. CASIO won with a superior product and support clearly portraying preferred partner attributes.
How user decided?
The CASIO DT-X10 was the true value leader compared to the competition. The battery life almost doubled it's nearest competitor.This operational superiority combined with the responsiveness and effectiveness of the CASIO Systems Team resulted in a clear cut direction for ARsystems. ARsystems International was also pleased with their CASIO Systems Partner selection as CASIO accompanied them to multiple piloting efforts in North America, and quickly addressed any issues with resources from North America and Japan.
Improvement after installation of the system :
The end user (trade show event producer and exhibitor) has a much more robust, flexible, and timely lead retrieval system. ARsystems (a solution provider) has an implemented and proven platform, not only provides a better ROI than the previous system, but also meets user satisfaction which will lead to higher revenue through improved renewals and a marketable and flexible solution.